page 73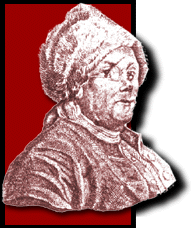 While at Bethlehem I inquired a little into the practice of the Moravians. Some of them had accompanied me, and all were very kind to me. I found they worked for a common stock, ate at common tables, and slept in common dormitories, great numbers together. In the dormitories I observed loopholes, at certain distances, all along just under the ceiling, which I thought judiciously placed for change of air. I was at their church, where I was entertained with good music, the organ being accompanied with violins, hautboys, flutes, clarinets, etc. I understood that their sermons were not usually preached to mixed congregations of men, women, and children, as is our common practice, but that they assembled sometimes the married men, at other times their wives, then the young men, the young women, and the little children, each division by itself. The sermon I heard was to the latter, who came in and were placed in rows on benches-the boys under the conduct of a young man, their tutor, and the girls conducted by a young woman. The discourse seemed well adapted to their capacities, and was delivered in a pleasing, familiar manner, coaxing them, as it were, to be good. They behaved very orderly, but looked pale and unhealthy, which made me suspect they were kept too much within doors, or not allowed sufficient exercise.
I inquired concerning the Moravian marriages, whether the report was true that they were by lot. I was told that lots were used only in particular cases; that generally, when a young man found himself disposed to marry, he informed the elders of his class, who consulted the elder ladies that governed the young women. As these elders of the different sexes were well acquainted with the tempers and dispositions of their respective pupils they could best judge what matches were suitable, and their judgments were generally acquiesced in; but if, for example, it should happen that two or three young women were found to be equally proper for the young man, the lot was then recurred to. I objected, if the matches are not made by the mutual choice of the parties, some of them may chance to be very unhappy. "And so they may," answered my informer, "if you let the parties choose for themselves"; which, indeed, I could not deny.
Being returned to Philadelphia, I found the association went on swimmingly, the inhabitants that were not Quakers having pretty generally come into it, formed themselves into companies, and chose their captains, lieutenants, and ensigns, according to the new law. Dr. B. visited me, and gave me an account of the pains he had taken to spread a general good liking to the law, and ascribed much to those endeavors. I had had the vanity to ascribe all to my "Dialogue." However, not knowing but that he might be in the right, I let him enjoy his opinion, which I take to be generally the best way in such cases. The officers, meeting, chose me to be colonel of the regiment, which I this time accepted. I forget how many companies we had, but we paraded about twelve hundred well-looking men, with a company of artillery, who had been furnished with six brass field-pieces, which they had become so expert in the use of as to fire twelve times in a minute. The first time I reviewed my regiment they accompanied me to my house, and would salute me with some rounds fired before my door, which shook down and broke several glasses of my electrical apparatus. And my new honor proved not much less brittle, for all our commissions were soon after broken by a repeal of the law in England.
This silly affair, however, greatly increased his rancor against me, which was before not a little, on account of my conduct in the Assembly respecting the exemption of his estate from taxation, which I had always opposed very warmly, and not without severe reflections on his meanness and injustice of contending for it. He accused me to the ministry as being the great obstacle to the king's service, preventing, by my influence in the House, the proper form of the bills for raising money, and he instanced this parade with my officers as a proof of my having an intention to take the government of the province out of his hands by force. He also applied to Sir Everard Fawkener, the postmaster-general, to deprive me of my office; but it had no other effect than to procure from Sir Everard a gentle admonition.
---