New Hall Military Museum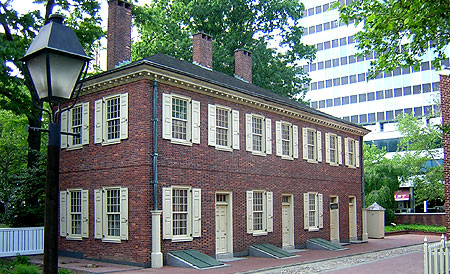 The present structure housing the New Hall Military Museum is a reconstruction of the one built in 1790 and used by the War Department in 1791 and 1792. A diverse array of flags, guns, swords, epaulets, uniforms, medals and other memorobilia from U.S. military history are all on display, as is a diorama depicting the establishment of the Continental Marine Corps at Philadelphia's Tun Tavern in 1775.
Children and adults love "Try Your Hand at Maneuvering for a Sea Battle." In this display the left switch controls the ship's rudder, the right trims the sails. Instructions tell us to "assume a southern wind" and, with success, a green light glows. It is a splendid way of making history come alive.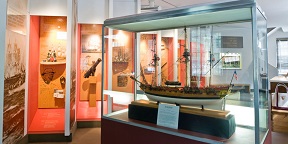 Just outside the Military Museum is an original "watch box" of old Philadelphia. The "watch," who reported, "It's six o'clock and all's well," kept an eye out for fires, thefts, attack by the enemy and any untoward events during the night. The watch box was his protection from rain, wind and cold between his rounds.
---
---
Independence Hall Area
New Hall (Military Museum)