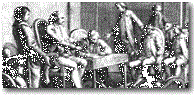 Signers of the Declaration of Independence
Short biographies on each of the 56 Declaration signers
---
Thomas Nelson Jr.
1738-1789
Virginia House of Burgesses, Representing Virginia at the Continental Congress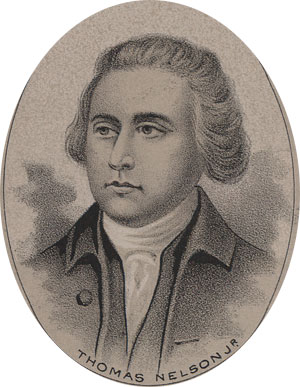 by Ole Erekson, Engraver, c1876, Library of Congress
| | |
| --- | --- |
| Born: | December 26, 1738 |
| Birthplace: | Yorktown, Virginia |
| Education: | Private, in England. Graduate of Cambridge. (Farmer) |
| Work: | Member of the House of Burgesses, 1774; Virginia provincial Convention, 1775; Officer and Commander of the Virginia Militia, 1775...; Delegate to the Continental Congress, 1775-77, 1779; Elected Governor of Virginia, 1781. |
| Died: | January 4, 1789 |
Thomas Nelson Jr. was born into the aristocratic society of Virginia in December of 1738. Like most of the southern Gentleman of his day, he gained a private education in England, culminating in a degree from Cambridge. He returned in 1761 and soon became involved in service to his colony and his country. Elected to the House of Burgesses in 1774, he was one of eighty nine who convened at the Raleigh tavern when that house was dissolved by the royal Governor. He was a member of the Virginia provincial convention in 1775, and there he undertook the creation of the Virginia Militia. He then assumed duty as its first Commander. Shortly thereafter he was elected to the Continental Congress. Nelson began suffering health problems in 1777 and thought best to retire to his native state. He resumed his military service, much to the benefit of both Virginia and his health. He was reelected to Congress in 1779 but his health again declined and he returned to Virginia several months later.
Once again he resumed service, as commanding General of the Lower Virginia Militia, at a time when British forces began aggressive campaigns against the southern colonies. In 1781, Thomas Jefferson declined reelection as Governor due to his inability to serve the needs of a state under siege. General Nelson succeeded Jefferson and served as both Civil Governor and Commander in chief of the Virginia Militia. Under his command Virginia, both civil and Military, became a force to contend with. Both the Continental Army and French forces utilized the skills of the Virginia units in the Siege of Yorktown in the autumn of 1781.
Finally overcome by illness in October of that year, General Nelson retired from public service. He died at one of his estates, in Hanover County, in 1789 at the age of 50.