The Declaration of Independence
When in the course of human events . . .
---
William G. Livingston
Representing New Jersey at the First Continental Congress
| | |
| --- | --- |
| Born: | November 30, 1723 |
| Birthplace: | Albany, New York |
| Education: | Graduate of Yale (Lawyer) |
| Work: | Admitted to the Bar, 1748; Member of the New York Assembly, 1759-1761; Member of Essex County Committee of Correspondence, 1774; Delegate to the Continental Congress, 1774, 1776; Commander of the New Jersey Militia, 1776; Governor of New Jersey, 1776-1790; Delegate to the Constitutional Convention, 1787. |
| Died: | 1790 |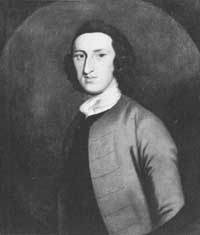 William G. Livingston was born in Albany New York in 1723. Raised by his maternal grandmother, at age fourteen he left home to minister to the Mohawk Indians. He chose a career in law, attended Yale, and graduated 1741. He was admitted to the bar in 1748. He quickly became involved in political affairs. He was a party leader in the royalist days, and sat in the Colonial Assembly of New York from 1759 to 1761.
He took a wife and moved to Elizabethtown New Jersey in 1760. He built his estate there and began a lifelong interest in agriculture. In 1774 he was drawn into public service again, as a member of the Committee of Correspondence for his county. That year he was selected to attend the first Continental Congress. He continued in the Congress until September of 1776, when he was called to command the militia in defense of the state. Later that year he was elected the fist Governor of the State, an office to which he was reelected each year until his death in 1790.
Livingston also served as a delegate to the Constitutional Convention, and was active in securing its ratification in New Jersey afterward. Yale awarded him an honorary Doctorate of Law in 1788. He died in office at the age of sixty-seven.