53c. Land of Television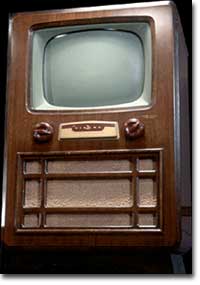 As the price of television sets dropped, the number of viewers grew. 1952 saw the arrival of the Viking Console, a Canadian set, which was popular all over North America.
Perhaps no phenomenon shaped American life in the 1950s more than television. At the end of World War II, the television was a toy for only a few thousand wealthy Americans. Just 10 years later, nearly two-thirds of American households had a television.
The biggest-selling periodical of the decade was TV Guide. In a nation once marked by strong regional differences, network television programming blurred these distinctions and helped forge a national popular culture.
Television forever changed changed politics. The first president to be televised was Harry Truman. When Estes Kefauver prosecuted mob boss Frank Costello on television, the Tennessee senator became a national hero and a vice presidential candidate.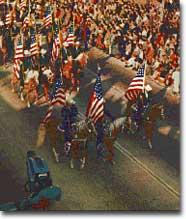 The first coast-to-coast color broadcast came on January 1, 1954, when NBC beamed the Tournament of Roses Parade across America.
It did not take long for political advertisers to understand the power of the new medium. Dwight Eisenhower's campaign staff generated sound bites — short, powerful statements from a candidate — rather than air an entire speech.
America Loves Lucy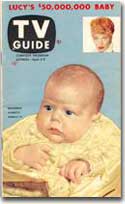 Lucille Ball's new baby brought 44 million viewers to the show and graced the cover of the first national issue of
TV Guide
in 1953.
TV Guide
soon became the most popular periodical in the country.
Americans loved situation comedies — sitcoms. In the 1950s, I Love Lucy topped the ratings charts. The show broke new ground by including a Cuban American character (Ricky Ricardo, played by bandleader Desi Arnaz) and dealing with Lucille Ball's pregnancy, though Lucy was never filmed from the waist down while she was pregnant. Forty-four million Americans tuned in to welcome her newborn son to the show.
Through shows such as Leave It to Beaver, The Donna Reed Show, and Father Knows Best, television created an idyllic view of what the perfect family life should look like, though few actual families could live up to the ideal.
Television's idea of a perfect family was a briefcase-toting professional father who left daily for work, and a pearls-wearing, nurturing housewife who raised their mischievous boys and obedient girls.
With rare exceptions (such as Desi Arnaz) members of minorities rarely appeared on television in the 1950s.
The Wild West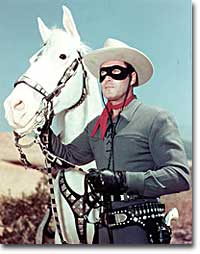 The Lone Ranger
was one of the earliest TV Westerns, making the jump from radio in 1941.
The Lone Ranger
and other Westerns geared toward children aired on Saturday mornings. Adult Westerns, such as
Gunsmoke
and
Wyatt Earp
aired during prime-time.
America's fascination with the Wild West was nothing new, but television brought Western heroes into American homes and turned that fascination into a love affair. Cowboys and lawmen such as Hopalong Cassidy, Wyatt Earp, and the Cisco Kid galloped across televisions every night.
The Roy Rogers Show and Rin Tin Tin brought the West to children on Saturday mornings, and Davy Crockett coonskin caps became popular fashion items. Long running horse operas, such as Bonanza and Rawhide, attracted viewers week after week.
One Western, Gunsmoke, ran for 20 years — longer than any other prime-time drama in television history. At the decade's close, 30 Westerns aired on prime time each week, and Westerns occupied 7 spots in the Nielsen Top-10.
Westerns reinforced the '50s notion that everything was OK in America. Like The Lone Ranger or Zorro, most programs of the early 1950s drew a clear line between the good guys and the bad guys. There was very little danger of injury or death, and good always triumphed in the end.
By the late '50s, though, the genre had become more complicated and the lines between good and evil was blurred. America entered the more turbulent '60s with heroes such as the black-clad mercenary Paladin and the gambling Maverick brothers who would do anything to earn a buck.
Nixon and Checkers
Richard Nixon was both helped and hindered by TV. His televised Checkers Speech (Checkers was his dog) successfully appealed to the public for support when financial scandals threatened to boot him from the Republican ticket. But in the 1960 televised presidential debates against John F. Kennedy, Nixon came off as sweaty and somewhat sinister.
Variety Shows: Vaudeville in American Living Rooms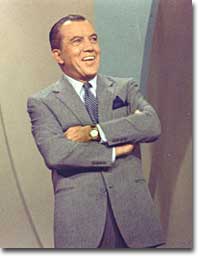 Ed Sullivan's variety show provided entertainment ranging from the rock and roll of the Rolling Stones to the goofy hijinks of trained animals.
Because most early television was live, the producers of major networks found their talent among people already had experience with live performance: vaudeville. Television and vaudeville combined to created the form of entertainment known as the variety show. Variety shows were made up of short acts — musical numbers, comedy sketches, animal tricks, etc. — usually centered around an engaging host. Former vaudevillians Bob Hope, Milton Berle, and Ed Wynn all hosted popular programs. The influence of vaudeville on television was so strong that television critics called the shows "Vaudeo."
Sid Caesar had two popular variety programs in '50s, Your Show of Shows and Caesar's Hour. These shows featured the writing talents of Carl Reiner, Mel Brooks, Larry Gelbart, and Woody Allen. Nat "King" Cole became the first African American host of a television series when his variety show appeared in 1956.
But perhaps no variety program had a greater effect on American culture than The Ed Sullivan Show, which ran for 23 years beginning in 1948 and was for a while America's most popular show. Combining highbrow and popular entertainment, Sullivan's "really big shew" became a major stop for both established performers and young, up-and-coming artists. Although Elvis Presley had appeared on other shows in the past, it was his performance on The Ed Sullivan Show that grabbed the headlines. By securing rock-and-roll acts, Sullivan won the adolescent market, truly making the variety show a whole-family event.
Commercials: Selling through the Screen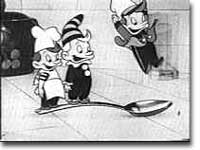 In 1955, the adorable cartoon characters Snap, Crackle, and Pop leapt around and sang about the joys of eating Rice Krispies. Advertisements were an integral part of television viewing then just as they are today.
With more and more American families owning televisions, manufacturers now had a new way to sell their products, and the television commercial was born. By late 1948, over 900 companies had bought television broadcast time for advertising. By 1950, sponsors were leaving radio for television at an unstoppable rate.
Television sponsors ranged from greeting cards to automobiles, but perhaps the most advertised product was tobacco. TV Guide voted Lucky Strike's "Be Happy, Go Lucky" ad commercial of the year for 1950, and Phillip Morris sponsored I Love Lucy for years, inserting cartoon cigarette packs in the show's opening animation. Cartoon characters were common in '50s commercials, representing everything from lightbulbs to beer. In 1950, Coca-Cola launched its first television ad campaign using a combination of animation and celebrity endorsement.
By 1954, television commercials were the leading advertising medium in America. The life of the American consumer would never be the same.
The New News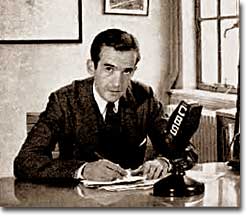 CBS
Edward R. Murrow's incisive journalism exposed the folly behind Senator McCarthy's rabid attacks on so-called communists, effectively ruining McCarthy's career.
Most Americans still got their news from newspapers in the 1950s, but the foundations for the modern television newscast were established as early as 1951 with Edward R. Murrow's See it Now, the first coast-to-coast live show. Many consider Murrow's 1953 Person to Person interview with Joseph McCarthy to be a major step toward McCarthy's downfall.
While Murrow reported on CBS, David Brinkley and Chet Huntley were revolutionizing news broadcasting with the NBC Nightly News. Brinkley and Huntley were the first anchormen to report from two cities simultaneously, and Brinkley's simple declarative sentences became the basis for television news writing for several decades.
Two major developments in the 1950s that set up television as the news medium of the future were the establishment of coaxial cable linking the East and West coasts, which enabled footage to be moved electronically instead of physically, and the invention of videotape, which allowed the use of prerecorded footage (such as studio interviews).
But when television is bad, nothing is worse. I invite you to sit down in front of your television set when your station goes on the air and stay there without a book, magazine, newspaper, profit-and-loss sheet or rating book to distract you — and keep your eyes glued to that set until the station signs off. I can assure you that you will observe a vast wasteland. You will see a procession of game shows, violence, audience participation shows, formula comedies about totally unbelievable families, blood and thunder, mayhem, violence, sadism, murder, western bad men, western good men, private eyes, gangsters, more violence and cartoons. And, endlessly, commercials — many screaming, cajoling and offending. And most of all, boredom.

– Newton Minow, Chairman of the FCC and 1950s televison viewer (1961)



Children's Programming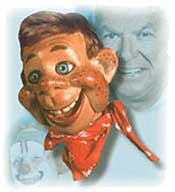 The Howdy Doody Show
, the first children's program to run five days a week, helped the young NBC network grow exponentially during the 1950s.
Understanding that the population of children was in greater numbers than in previous generations, television producers developed a host of children's programs. Shows such as The Mickey Mouse Club and Howdy Doody, entertained millions of American tykes.
During the 1950s, few households owned more than one television, so viewing became a shared family event. Even the American diet was transformed with the advent of the TV dinner, first introduced in 1954.