11c. Lexington and Concord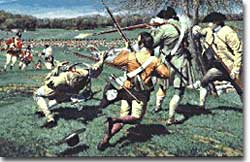 Ready to fight at a moment's notice, minutemen began fighting early in the American Revolution. Their efforts at Lexington and Concord inspired many patriots to take up arms against Britain.
Britain's General Gage had a secret plan.
During the wee hours of April 19, 1775, he would send out regiments of British soldiers quartered in Boston. Their destinations were Lexington, where they would capture Colonial leaders Sam Adams and John Hancock, then Concord, where they would seize gunpowder.
But spies and friends of the Americans leaked word of Gage's plan.
Two lanterns hanging from Boston's North Church informed the countryside that the British were going to attack by sea. A series of horseback riders — men such as Paul Revere, William Dawes and Dr. Samuel Prescott — galloped off to warn the countryside that the Regulars (British troops) were coming.
Regulars
It is a myth that Revere and other riders shouted, "The British are coming!" This warning would have confused a good many of the Americans living in the countryside who still considered themselves British. The Regulars were known to be British soldiers.
We set off for Concord, and were overtaken by a young gentleman named Prescot, who belonged to Concord, and was going home. When we had got about half way from Lexington to Concord, the other two stopped at a house to awake the men, I kept along ....

In an instant I saw four of them, who rode up to me with their pistols in their bands, said ''G---d d---n you, stop. If you go an inch further, you are a dead man.'' Immediately Mr. Prescot came up. We attempted to get through them, but they kept before us, and swore if we did not turn in to that pasture, they would blow our brains out, (they had placed themselves opposite to a pair of bars, and had taken the bars down). They forced us in. When we had got in, Mr. Prescot said "Put on!" He took to the left, I to the right ...

Just as I reached it, out started six officers, seized my bridle, put their pistols to my breast, ordered me to dismount, which I did.

– Paul Revere, "Account of Midnight Ride to Lexington" (1775)



Lexington and the Minutemen
The first battle of the war, Lexington marked the beginning of the American Revolution. Although Lexington and Concord were considered British military victories, they gave a moral boost to the American colonists.
Word spread from town to town, and militias prepared to confront the British and help their neighbors in Lexington and Concord.
These Colonial militias had originally been organized to defend settlers from civil unrest and attacks by French or Native Americans. Selected members of the militia were called minutemen because they could be ready to fight in a minute's time.
Sure enough, when the advance guard of nearly 240 British soldiers arrived in Lexington, they found about 70 minutemen formed on the Lexington Green awaiting them. Both sides eyed each other warily, not knowing what to expect. Suddenly, a bullet buzzed through the morning air.
It was "the shot heard round the world."
Concord

Thomas Gage was appointed commander in chief of all British forces in North America in 1763.
The numerically superior British killed seven Americans on Lexington Green and marched off to Concord with new regiments who had joined them. But American militias arriving at Concord thwarted the British advance.
As the British retreated toward Boston, new waves of Colonial militia intercepted them. Shooting from behind fences and trees, the militias inflicted over 125 casualties, including several officers. The ferocity of the encounter surprised both sides.
Lt. Col. Smith's Report to Gen. Gage
In obedience to your Excellency's commands, I marched on the evening of the 18th inst. with the corps of grenadiers and light infantry for Concord, to execute your Excellency's orders with respect to destroying all ammunition, artillery, tents, &c., collected there, which was effected, having knocked off the trunnions of three pieces of iron ordnance, some new gun carriages, a great number of carriage wheels burnt, a considerable quantity of flour, some gunpowder and musket balls, with other small articles thrown into the river. Notwithstanding we marched with the utmost expedition and secrecy, we found the country had intelligence or strong suspicion of our coming, and fired many signal guns, and rung the alarm bells repeatedly; and were informed, when at Concord, that some cannon had been taken out of the town that day, that others, with some stores, had been carried three days before ....
I think it proper to observe, that when I had got some miles on the march from Boston, I detached six light infantry companies to march with all expedition to seize the two bridges on different roads beyond Concord. On these companies' arrival at Lexington, I understand, from the report of Major Pitcairn, who was with them, and from many officers, that they found on a green close to the road a body of the country people drawn up in military order, with arms and accoutrements, and, as appeared after, loaded; and that they had posted some men in a dwelling and Meeting-house. Our troops advanced towards them, without any intention of injuring them, further than to inquire the reason of their being thus assembled, and, if not satisfactory, to have secured their arms; but they in confusion went off, principally to the left, only one of them fired before he went off, and three or four more jumped over a wall and fired from behind it among the soldiers; on which the troops returned it, and killed several of them. They likewise fired on the soldiers from the Meeting and dwelling-house. We had one man wounded, and Major Pitcairn's horse shot in two places. Rather earlier than this, on the road, a country man from behind a wall had snapped his piece at Lieutenants Adair and Sutherland, but it flashed and did not go off. After this we saw some in the woods, but marched on to Concord without anything further happening. While at Concord we saw vast numbers assembling in many parts; at one of the bridges they marched down, with a very considerable body, on the light infantry posted there. On their coming pretty near, one of our men fired on them, which they returned; on which an action ensued, and some few were killed and wounded. In this affair, it appears that after the bridge was quitted, they scalped and otherwise ill-treated one or two of the men who were either killed or severely wounded, being seen by a party that marched by soon after. At Concord we found very few inhabitants in the town; those we met with both Major Pitcairn and myself took all possible pains to convince that we meant them no injury, and that if they opened their doors when required to search for military stores, not the slightest mischief would be done. We had opportunities of convincing them of our good intentions, but they were sulky; and one of them even struck Major Pitcairn. On our leaving Concord to return to Boston, they began to fire on us from behind the walls, ditches, trees, etc., which, as we marched, increased to a very great degree, and continued without the intermission of five minutes altogether, for, I believe, upwards of eighteen miles; so that I can't think but it must have been a preconcerted scheme in them, to attack the King's troops the first favourable opportunity that offered, otherwise, I think they could not, in so short a time as from our marching out, have raised such a numerous body, and for so great a space of ground. Notwithstanding the enemy's numbers, they did not make one gallant effort during so long an action, though our men were so very much fatigued, but kept under cover.
– Lieutenant Colonel Smith, 10th Regiment of Foot, letter to General Gage (April 22, 1775)
The first bloodshed at Lexington and Concord, marked the crossing of a threshold, and the momentum from these events pushed both sides farther apart. Following the battles, neither the British nor the Americans knew what to expect next.
Indignation against the British ran high in the Colonies — for they had shed American blood on American soil. Radicals such as Sam Adams took advantage of the bloodshed to increase tensions through propaganda and rumor-spreading. The Americans surrounded the town of Boston, and the rebel army started gaining many new recruits.
During the battles of Lexington and Concord, 73 British soldiers had been killed and 174 wounded; 26 were missing. Lord Percy, who led the British back into Boston after the defeat suffered at Concord, wrote back to London, "Whoever looks upon them [the Rebels] as an irregular mob will be much mistaken." Three British major generals — William Howe, Henry Clinton, and "Gentleman Johnny" Burgoyne — were brought to Boston to lend their expertise and experience to the situation.
Benedict Arnold and Ethan Allen Join the Cause
Shortly after the battle, an express rider carried the news to New Haven, Connecticut, where a local militia commander and wealthy shopkeeper named Benedict Arnold demanded the keys to a local powder house.
After arming himself and paying money from his own pocket to outfit a group of militia from Massachusetts, Arnold and his men set off for upstate New York. He was searching for artillery that was badly needed for the Colonial effort and reckoned that he could commandeer some cannon by capturing Fort Ticonderoga, a rotting relic from the French and Indian War.
Up in the Hampshire Grants, part of modern-day Vermont, Ethan Allen who led a group called the Green Mountain Boys, also had the idea to capture Fort Ticonderoga. The two reluctantly worked together and surprised the poorly manned British fort before dawn on May 10, 1775.
The fort's commander had been asleep and surrendered in his pajamas!