12. Societal Impacts of the American Revolution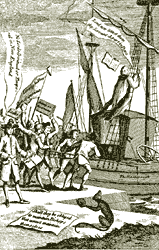 Library of Congress
Freedom of religion was an important issue for the colonists as the Anglican Church was seen as yet another vehicle of oppression by England. In this cartoon, a new Bishop arriving from England is driven away. The angry mob shouts: "No Lords Spiritual or Temporal in New England!"
Liberty, republicanism, and independence are powerful causes. The patriots tenaciously asserted American rights and brought the Revolution. The Revolution brought myriad consequences to the American social fabric. There was no Reign of Terror as in the French Revolution. There was no replacement of the ruling class by workers' groups as in revolutionary Russia. How then could the American Revolution be described as radical? Nearly every aspect of American life was somehow touched by the revolutionary spirit. From slavery to women's rights, from religious life to voting, American attitudes would be forever changed.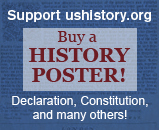 Some changes would be felt immediately. Slavery would not be abolished for another hundred years, but the Revolution saw the dawn of an organized abolitionist movement. English traditions such as land inheritance laws were swept away almost immediately. The Anglican Church in America could no longer survive. After all, the official head of the Church of England was the British monarch. States experimented with republican ideas when drafting their own constitutions during the war. All these major changes would be felt by Americans before the dawn of the nineteenth century.
The American Revolution produced a new outlook among its people that would have ramifications long into the future. Groups excluded from immediate equality such as slaves and women would draw their later inspirations from revolutionary sentiments. Americans began to feel that their fight for liberty was a global fight. Future democracies would model their governments on ours. There are few events that would shake the world order like the success of the American patriotic cause.