Howe's Flanking Strategy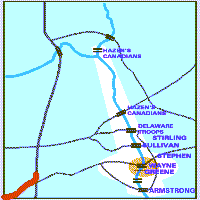 On the 9th, the same day Washington was holding a Council of War, General Howe learned from scouts and spies that Washington had several thousand men massed along the east side of Brandywine Creek, with the bulk of the army dug in at Chadd's Ford.
The axiom goes that those who forget the past are doomed to repeat it. Howe decided to repeat the flanking strategy that was successful for him at Long Island and hope that Washington would discount the possibility this time, as the flanking movement here would be far more ambitious.
Howe Gets Local Help
Shortly after landing at Head of Elk, Howe enlisted the services of Curtis Lewis, a Chester County Loyalist who had come to Elk to volunteer as a guide. Lewis gave Howe detailed descriptions of all the fords along the Brandywine. Days before the battle, Howe's scouts had already reconnoitered Jeffries' Ford and observed that it wasn't guarded. So, it turned out, that Howe had a much better topographical sense of this part of the country than Washington — despite the fact that Washington had many area natives on his staff.
A Deception and a Flanking Movement
Howe divided the British in two divisions.
General Knyphausen's division would consist of nine British and four Hessian regiments and number about 7,000 soldiers. Their mission was to convince Washington that the entire British army was attacking at Chadd's Ford, and to give Howe and Cornwallis enough time to move their troops into position on the east side of the Brandywine.
The flanking division led by Howe and General Cornwallis would consist of 12 British and three Hessian regiments and number about 8,000. They would cross the Brandywine at Jeffries' Ford, 8 miles north of Chadd's Ford, and flank Washington's right.
---
---