Kelly/Maiello Team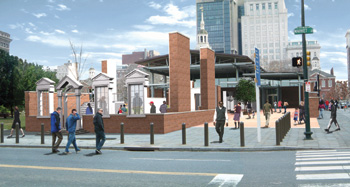 Kelly/Maiello
Kelly/Maiello Model
Explanation of Model Provided by Kelly/Maiello Team
THE PRESIDENT'S HOUSE: Freedom and Slavery in Making a New Nation
Dreams of Freedom and Tales of Slavery infused the President's House in the 1790s.
The interpretive program of the Kelly/Maiello and Daniel J. Keating Co. Design Build Team invites Independence National Historical Park visitors to "Listen In" to these narratives, recaptured across the centuries.
At eight distinct locations visitors experience the six substantive themes of the presentation: The House and the People Who Lived there; The Executive Branch of the U. S. Government; The System and Methods of Slavery; African-American Philadelphia, especially free African-American; The Move to Freedom, and History Lost and Found.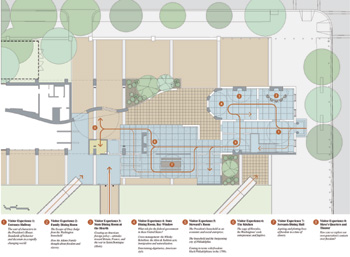 Kelly/Maiello
Kelly/Maiello Model
As visitors move through the ghost of the building, its architectural fragments reveal the traces of momentous decisions, heart-rending conversations, and the passing details of everyday life and work in a complex human community:
In sound recordings of dialogues, of ordinary work, of the passing of days, weeks, seasons, and presidential terms;
In images caught, fleetingly and dramatically, on brilliant LED screens,
In clear and memorable graphic panels, representing the context of the times;
And in the cast impressions on the surfaces of artifacts, documents, and ephemera that once shared this space.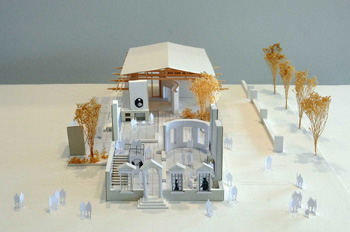 City Photo
Kelly/Maiello Model
The families of the presidents, their political associates in the new government, their servants, and their enslaved people all come back vividly to life.
Kelly/Maiello Team Members
Kelly/Maiello, Architects & Planners, Architecture and Project Design Administration
Daniel J. Keating Co., Project Team Contractor & Construction
American History Workshop, Interpretive Planning and History
Professors James O. Horton, Gary Nash, and Julie Winch, Historians
Davis Giovinazzo Construction Co., Masonry
Ueland Junker McCauley Nicholson, Exhibit Design
Magian Design Studio, Exhibit Sound Design
Maltbie Inc., Exhibit Fabrication
Synterra Ltd., Landscape Design
Bittenbender Construction Co., Site Preparation
Larry C. McCrae, Inc., Electrical Lighting
Grenald Waldron Associates, Lighting Design
John Milner Associates, Archeology
Keast & Hood Co., Structural Engineering
Progressive Engineering Group, Civil Engineering
Additional Team Members to be Added