Information for Educators
Calendar of Events
NHD Philly Kick-off Event
Historical Society of PA
October 22, 2013 at 4:30 p.m.
HSP welcomes educators to come see its new spaces for learning and to discover the NHD Philly program.

Teaching Tools for National History Day 2013/2014
October 29, 2013 at 6 p.m.
Come explore National History Day 2013/2014 with the National Archives and Records Administration and experienced teachers and students. Education Specialists and Archivists will discuss the process of NHD participation using resources from the nationwide network of National Archives facilities. Veteran NHD teachers and students will be on hand to offer helpful insights and strategies for success. The webinar is free.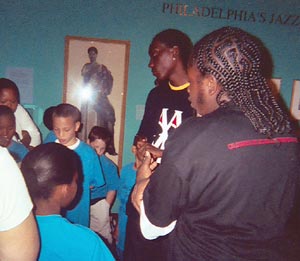 Picture courtesy AAMP
Teachers: See See Front page for link to release forms to be filled in for each participating student.
Because National History Day is a highly regarded program linked to both national and Pennsylvania State education standards, local teachers find the program an exciting way to meet education outcomes in grades 6-12 and to provide their students with an exciting "hands-on" learning experience.
Teachers are important in helping students participate in National History Day!
Teachers coach students on research skills, like using libraries, archives, and museums or conducting oral history interviews.
Teachers can challenge their students to develop their critical thinking skills by getting them beyond just relaying facts.
Teachers can guide students through the process of producing a project, helping them to manage time and follow a schedule.
Most importantly, teachers can make the National History Day project work and integral part of classroom learning, thereby linking the classroom to a real life and rewarding experience!
Many schools participating in National History Day will hold a local contest or fair at their school to give students a "dress rehearsal" or elimination round. These are ways to prepare students for the regional, state and national competitions levels, where they will have to present their project work and be evaluated.
Many teachers seek parent involvement with National History Day, which has proven a wonderful way for building lasting connections.
Resources and Tools for Teachers
Resources and Tools to Help Your Students