Source:
Press Release
Date: December 4, 2010
Byline: Robert Bernstein
Deck the Alley and Christmas in Colonial Philadelphia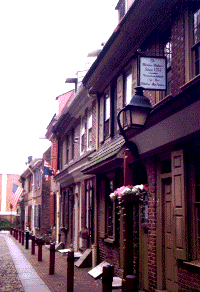 Elfreth's Alley
FOR IMMEDIATE RELEASE
Elfreth's Alley Residents open their doors for Deck the Alley
Saturday December 4, from 4:00 to 7:00 pm
Visitors to Elfreth's Alley's traditional holiday open house on December 4 are in for a special treat this year. That friendly, full-figured, twinkle-eyed fellow — Benjamin Franklin himself — will regale the crowds with stories about his own holiday mishaps: his "electrocuted Christmas" and his overpriced whistle.
With seasonal refreshments and live music, Deck the Alley is one of Philadelphia's favorite holiday traditions. Of course, the main feature is still the rare opportunity to see inside a selection of these historic private homes, all decorated for the holidays.
For the first time, guests can fully immerse themselves in the colonial holiday experience through a special deluxe option: Christmas in Colonial Philadelphia. They will step on board their horse-drawn coach at the foot of Elfreth's Alley for a ride through Society Hill on their way to the Hill- Physick House, the elegant mansion of Ben Franklin's wine merchant. There they will enjoy light refreshments before continuing on to the City Tavern for a holiday feast that will complete the evening.
Advanced Tickets for Deck the Alley: Students (6-18) $10, Adults $20, Families $60
Tickets Purchased on the Day: Students (6-18) $15, Adults $25, Families $80
To reserve tickets for Christmas in Colonial Philadelphia: Check website for full information or contact the Elfreth's Alley Office 215-574-0560 or E-mail director@elfrethsalley.org
Elfreth's Alley Association
126 Elfreth's Alley, Philadelphia, PA 19106
Contact: Robert Bernstein • Tel: 215-574-0560 • Email: Bob@elfrethsalley.org
---
Christmas in Colonial Philadelphia
Saturday Evening, December 4, 2010
Enjoy a Colonial Night before Christmas
Reservations are limited for this unique holiday treat:
$135 for Adults
$75 for Children (under 12)
Your Colonial Christmas begins with visits to the decorated homes of Elfreth's Alley during Deck the Alley, followed by a carriage ride through elegant Society Hill on your way to refreshments at an18th century mansion. Cap off your evening with a splendid Christmas feast at the City Tavern.
Start with Deck the Alley:
Enjoy the homes and shops of Elfreth's Alley artisans
Caroling, refreshments and guided tours
Board a Horse-drawn Carriage:
Your carriage will carry you through Society Hill's cobblestone lanes lit by Ben Franklin's street lamps
Refreshments at Society Hill's most elegant 18th century mansion, the Hill-Physick House
Dine at the City Tavern:
Enjoy a holiday feast where John Adams had "the finest meal ever laid upon a table."
Dinners include soup or salad, entrée from City Tavern's regular menu, dessert & non-alcoholic beverage
City Tavern's famous shrub, as well as a full range of adult beverages, can be purchased separately that evening
Children can select from City Tavern's award-winning Children's menu
Contact Elfreth's Alley Association Office at 215-574-0560 or e-mail director@elfrethsalley.org