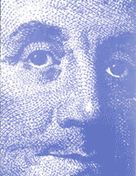 CONTACT:
Erin Mooney, Moxy PR
(267) 788-2196
moxy@moxypr.com

FOR IMMEDIATE RELEASE:
TK, 2017
ANNUAL CELEBRATION HONORS BENJAMIN FRANKLIN ON FRIDAY, JANUARY 12, 2018
The Founding Father's 312th birthday event examines American race relations
Philadelphia, PA -The 2018 Benjamin Franklin Birthday Celebration will be held Friday, January 12, 2018. With a theme of "Race Awareness in America," the annual event explores our nation's complicated history of race relations dating back to Franklin's time and honors the contributions of Dr. Robert S. Bogle and The Philadelphia Tribune.
The Celebration serves as a public "junto" about the important issues that trace a through-line from Franklin's day to our own, followed by a colorful procession through Old City Philadelphia and a ceremonial wreath laying at Franklin's grave at Christ Church Burial Ground.
The morning kicks off with a seminar on Race Awareness in America, featuring Lehigh University professor Dr. Jean R. Soderlund and Haverford College emeritus professor Dr. Emma Lapansky, and moderated by American Philosophical Society executive officer Dr. Robert Mason Hauser. The free event will take place at 9 a.m. at Benjamin Franklin Hall of the American Philosophical Society (427 Chestnut Street).
Recipients of the 2018 Franklin Founders award, Dr. Robert W. Bogle and The Philadelphia Tribune will be honored at a luncheon at the Museum of the American Revolution (101 S. 3rd Street). The day's events are dedicated to the memory of William T. Coleman, Jr. For tickets and more information about this year's Celebration, visit www.franklincelebration.org.
2018 CELEBRATION SCHEDULE
MORNING SEMINAR (free event) 9-11 am
PROCESSION AND WREATH-LAYING - 5th Street to Dr. Franklin's Grave (free event) 11:15 am - 12 pm
LUNCHEON honoring Dr. Robert W. Bogle and The Philadelphia Tribune (registration required) 12 pm-1:45 pm
ABOUT THE MORNING SEMINAR SPEAKERS
Robert Mason Hauser is Executive Officer of the American Philosophical Society. His talk is entitled "What's the Matter with American Schools?"
Jean R. Soderlund is a professor of history emeritus at Lehigh University whose most recent book is Lenape Country: Delaware Valley Society before William Penn. Her talk is entitled "Brothers No More? Lenapes and Colonists in the Delaware Valley."
Emma Jones Lapsansky is Emeritus Professor of History and Curator of the Quaker Collection at Haverford College. Her talk is entitled "Complexity and Nuance: Benjamin Franklin, William T. Coleman and a Serpentine Narrative of Race in America."
ABOUT THE HONOREES
The Franklin Founder Award will be presented at a luncheon to Dr. Robert W. Bogle, the president and CEO of The Philadelphia Tribune, and to the newspaper itself as the oldest continually publishing African-American newspaper in the country. The Tribune has been the voice of African Americans in the Greater Philadelphia area since 1884. In addition to his leadership of the newspaper, Dr. Bogle is chairman of the Hospitals and Higher Education Facilities Authority of Philadelphia and serves as a commissioner of the Delaware Valley River Port Authority. He is Chairman of the Council of Trustees of Cheney University. And like his fellow newspaperman Dr. Franklin, Dr. Bogle received an honorary degree in Humane Letters for his civic contributions.
ABOUT CELEBRATION! BENJAMIN FRANKLIN, FOUNDER
Celebration! Benjamin Franklin, Founder was established to bring national and international attention to Benjamin Franklin, America's best known historic figure.
Every year, Celebration! Benjamin Franklin, Founder organizes a birthday event to bring awareness to Franklin's astounding achievements and profoundly productive life with a special theme to call attention to current day issues and events. For more information, visit www.franklincelebration.org.
###