Tourist attacks Liberty Bell with hammer
From the Philadelphia Inquirer April 6, 2001

The man, who was part of a tour, was taken into custody. Damage can be repaired, expert says.
By Thomas J. Gibbons and Joseph Slobodzian
INQUIRER STAFF WRITERS
A self-described wanderer from Nebraska struck and damaged the Liberty Bell today with a hand-held sledgehammer, according to federal officals who have the man in custody.
The blows left at least five thumbnail-sized dents on the flare near the bottom of the bell. An expert who examined the bell said the damage can be repaired to a point where it would probably not be visible.
The suspect was identified as Mitchell Guilliatt, 26, who told authorites he was "born in Nebraska but I am a wanderer," said Assistant U.S. Attorney Mitchell S. Goldberg. Guilliatt's 27th birthday will be tomorrow, Goldberg said.
A conservator from the Philadelphia Museum of Art was called to the Liberty Bell Pavillion on Independence Mall to inspect the damage, said National Park Service spokesman Phil Sheridan.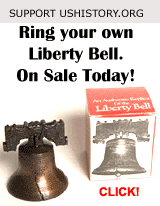 ---
Conservator Andrew Lins described the damage as "relatively minor, almost all superficial damage."
Lins' department was contacted this morning and has already done some cosmetic repairs to the bell.
He said that they would perform a more permanent repair very soon.
"The effect of this will probably be not at all visible to the public in the coming weeks," he said.
The Liberty Bell area was closed off to tourists after the incident but was reopened at around 12:30 p.m.
Guilliatt, who had participated in a tour and speech about the bell, struck the bell several times with what Sheridan described as a "hand sledge," a tool with the heavy metal head of a sledgehammer on a short handle.
The incident took place around 9:30 a.m. just as a group was finishing a Liberty Bell tour. Sheridan said rangers heard the sound of metal striking metal and the "next thing they knew they turned around and saw an individual standing behind the bell," on the side that faces Independence Hall, striking it with a hammer four or five times.
"A ranger tackled him, called law enforcement and we took him into custody," Sheridan said.
As he was being led away, other tourists said, the suspect, who was said to be wearing his hair in stringy dreadlocks, cried out, "I didn't do anything violent."
Immediately after the incident, park service employees could be seen combing the floor beneath the bell, picking up minuscule shards of metal that had apparently been chipped off of the bell. Sheridan said the pieces would be tested to determine their condition.
During a five-minute hearing in U.S. District Court, Guilliatt, wearing a T-shirt picturing a crucified Jesus, wished peace and love to everyone in court, then added, "We are all one body in Christ and God is the judge over all of us."
Guilliatt was brought before a federal magistrate at about 1:30, charged with "causing damage to an archaeological resource." He said he did not want a lawyer to represent him but one was appointed for the hearing. A competency evaluation also was ordered, and he was to remain in federal custody at least until a hearing scheduled for Wednesday.
During his senior year at Columbus (Nebraska) High School, Guilliatt was a co-captain of the football team and nominated for homecoming king. He was also on the wrestling team, and was a member of the Methodist Church while the family lived in Columbus.
Bertha Guilliatt of Auburn, Neb., said her grandson was never in trouble and was religious. He did not have a permanent address or phone number, but did call occasionally, she said.
"I was always worried that maybe he was a fanatic or something. He always said God would take care of him," his grandmother said.
The incident left tourists in the area stunned. Many of them peered through the glass into the partially enclosed building where the bell is housed, in the shadow of Independence Hall.
More than 1.6 million people visit the Liberty Bell each year. Sheridan said that visitors are allowed to get up close to the valued artifact and that while people are not encouraged to touch the bell, there are no measures to prevent such contact.
"It is obviously something people feel very strongly about," Sheridan said about keeping the bell in an accessible place. He said the Park Service would "certainly be reviewing public access to the bell in the future."
Providing access to the bell and protecting its security, he said "is one of those difficult balances we have to reach."
---
The Associated Press contributed to this report.