Wyck
6026 Germantown Avenue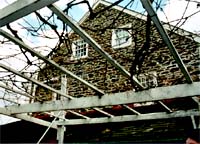 The West facade of Wyck with the Concord Grape arbor.
Wyck was home to nine generations of the same Quaker family. Today the wonderful colonial house with its noteworthy 1824 alterations and historic gardens give an overview of a way of life using the original family furnishings and possessions accumulated over 300 years as illustrations. Significant 18th and 19th century furniture, ceramics and needlework bring alive the tastes and comforts of that time.
Wyck's grounds include a nationally known garden of old roses which grow in their original plan from the 1820's and early outbuildings that were part of Wyck's farm.
Sources:
1. Photos by Greg Heller, Copyright © 2000 by the Independence Hall Association

On the web: Wyck homepage
Interested in using a picture? Some text? click here.
To contact the webmaster, click here
Copyright ©2000-2013 by the Independence Hall Association,
electronically publishing as ushistory.org.
The IHA is a nonprofit organization in Philadelphia, Pennsylvania, founded in 1942.
On the Internet since July 4, 1995.