Your Thoughts Archive
May 1-10, 2011
As predicted, immediately after ANZAC Day (April 25, Australia's Memorial Day), it's turned cold. My garden is flourishing, with huge, still green, tomatoes and eggplant, green peppers, cauliflower and cabbage coming along nicely, and I'm harvesting lettuce and baby spinach a few leaves at a time, to eat straightaway. It's great to be able to pop outside to snip a few bits of oregano, thyme, parsley, etc to throw into the spaghetti sauce and I have hot chilies and lemongrass for curries, too. With temperatures hovering just above freezing, I'm covering the plants with plastic bags at night to protect them from frostbite. Looking at my veggie patch, I'm reminded of the fabulous veggie gardens tended by Italian and Greek immigrants here, of whom there are many, many, and can't recall a similar phenomenon in Germantown when I was growing up. Although there were many Italians in my neighborhood, I don't remember seeing any veggie gardens on a major scale. Maybe on 'the other side' of Gtn. Ave? I'd like to hear from the Italian bloggers about veggie gardens their families may have had, how big, what they grew etc and whether they've carried on the tradition.
Catherine Manning Muir, There's frost on my pumpkins! [05-10-2011]
JBS - I too am a great fan of Eva Cassidy. She was a remarkable musician and singer, with unmatched style and voice. He version of "Among the fields of holly " is outstanding, but her most haunting and beautiful song is" I know you by heart ".She died much too young,she had skin cancer and waited too long to have it diagnosed. Such a tragedy! There is a movie in the works of her life story.I heartily recommend her CD'S to everyone .You will not soon forget this srtist.
Bob D'Angelo [05-10-2011]
Ed Burke:I also heard that rumor about closing those two schools. I, like you, will not put one penny in the collection box to go for the defense of these molestors...I will give it to the really poor people who need it/They're easy to spot down here in Center City where I work..God bless you, Linda
L.Fontana [05-10-2011]
does anyone go to billy keenan's in rox. it's back of super fresh. anyone from the fifties germantown.
dottie g [05-10-2011]
I have been asked so here it is. I grew up with the nickname "Bommie". Dont ask where it came from, but I carried that name through High School. Lived on Mechanic Street and hung out at the "Cave", Germantown 62-72.
Ed Farrar, Chester, VA [05-10-2011]
Webmaster, thanks for the Mothers' Day info
Denise Duckworth Tumelty [05-10-2011]
Frank Crawford, is your dad Ron Crawford who moved to Florida a few years ago?
HLD [05-10-2011]
Ed Burke: I am sure the cost of legal fees contributed to the closure of both CD and North Catholic, but in of itself was not the primary factor. I have always felt that it was due to being in a vicious circle starting sometime in the 60's, with people of my generation. AS these students graduated, I suspect a wide majority, started to fade away from the church, which resulted in falling monies going into the collection baskets, which resulted in escalating tuition's. This then caused even fewer parents willing to pay to have their children get a Catholic Education. When I started in the fall of '58, the full tuition was paid for by the individual parishes, through the contributions of the parishioners. The only fee we had was a $20.00 book bill. Before CD closed, I believe the fee was approaching the $6,000 level. Of course there were other factors, such as the changing demographics of the city, as more and more affluent parents moved to the suburbs. I was personally surprised that CD stayed open so long. It amazed me that a building that was designed to hold 5000-6000 and in the closing years only had enrollments around the 1000 level.
John Fleming, Tampa Bay, Florida CD'62 [05-10-2011]
Hi Naomi, So sorry to hear about Butchy. Hope everyone else is fine. Phyllis, as you may or may not know is a nun. She is stationed at St. Matt's on Cottman Ave. I'll tell her you said " Hi ". If you look at the site, there is a post from Stevie Swift. Also I keep in touch with Linda Fontana.
John DiRenzo, Mesa,Az. [05-10-2011]
On this Mother's Day, I'm reminiscing; looking through some "home-made" Mother's Day cards that I created as a child & gave to my mom with much pride & much love. These cards were crafted using colorful construction paper, with pieces of ribbon & assorted buttons glued to its surface. The rhyming verse conveying my Mother's Day wish was printed with multi colored crayons. Some of these creations are now over 60 years old, faded & frayed; but when I look back on the days when I was a student at IC, the memories are as vivid as the crayons I used to print this verse: "Christopher Columbus discovered America in 1492; but I discovered something better than that when I discovered you!" Happy Mother's Day & thanks for the memories.
Lorraine (Cupo) Kelly, ic '55; cdhs '59; fl [05-10-2011]
Hey Stevie, Of course I remember You. How are you and how's the rest of the family? Shoot me an email and we'll start to Catch up.
John DiRenzo, Mesa, Az. [05-10-2011]
CMM&DDT,The Cecilian Girls: Both of you are so smart,educated,good memories in different areas,independent women,and had no need for white-knights although I do submit that this would be a bonus for some women. If there were ever a white-knight, it was Ken Duckworth, Denise's brother. Ken Duckworth was an heroic-type figure- brave and courageous,smart and disciplined,and women would feel comfortable and secure in his company-including Little Sister,Denise. There were other white-knight types in SFA and Germantown but both of you found your men in Australia and Oreland. My Joan of Arc was born in Germany,grew up in Argentina, and educated in Philadelphia. One never knows our destiny and only God has that prescient faculty. Cecilian Ladies! Keep posting and I know that I am right that both of you are Erudite.
JBS [05-10-2011]
John B. Schmitt- It was good meeting you at the luncheon. Like others from Germantown, I enjoy all you share on the GTN site. Thanks. naomi
Naomi Vitelli [05-10-2011]
CMM - I still remember that it was at the left end of the chalk board. It was Laurentia. She had her Masters in History. Why in the world was she teaching Math? In my memory, Fenton taught English & I think geometry in high school Of course she also taught 7th & 8th grade before she was "promoted."
Denise Duckworth Tumelty [05-10-2011]
Re: Yesterday's Garbled English Lesson. I wanted to show the importance of commas, especially since some blogs have been about women's rights. Here is the same sentence twice--without and with commas: Woman without her man is nothing. OR Woman, without her, man is nothing. (Next week, apostrophes)
anonymous [05-10-2011]
Ed Burke, I will never defend the church hierarchy's handling of the sex abuse scandal with its priests. But, I believe you are way off base with your comment that the church closed CD and NC because they needed the money to pay for the lawsuits. One has nothing to do with the other. Fact is, the Catholic school system, as we know it, is dying a slow death. In time, there will be Catholic private schools, but no archdiocesan-run schools, as we knew them. Reason, the escalating costs of running a school and the decreasing number of Catholics, and Catholic children. Every year, Catholic tuition increases, not to pay lawsuits, but to cover the operating costs of the schools. At the elementary school level, tuition covers only around 60% of the cost to educate the child, with the parish covering the rest. I don't know the figures at the high school level. With each increase, there is a dropoff in enrollment because of parental affordability. That will continue. Plus, as you know, the flight in Philly to the suburbs had a big effect on the decreasing enrollment. Those that bought the homes we left, typically, were not Catholic. With all these schools in Philly, with the significantly reduced enrollment, something had to give. We all knew something was going to happen, whether it be consolidations or closings. It hurts when it is your school, as CD is mine. What doomed CD from consideration to keep open is its sheer physical size. It was just too big of a building. NC, I don't know why it was chosen, probably the location. The area where it drew most of its students has been in serious decline for years. With enrollment projections showing continued significant losses, closings were inevitable. Many people are angry at the Catholic Church because of the scandals, rightly so. Many were mad at the Catholic Church before the scandals, for whatever their reason, and this only gave fuel to their anger. An angry person is quick to make stuff up, to find a reason and justification for their anger. Giving or not giving to support the church you belong to is a personal decision. But, don't base it on hearsay that is rooted in anger and unsupported by fact.
Dennis McGlinchey, Born & raised in East Germantown [05-10-2011]
How many of youGTNers out there remember those wonderful dances at St.Vincent's on Fri.nights & Trinity Lutheran on Sat. nights?? I remember doing The Bunny Hop & jitterbugging to those wonderful recordings--Johnny Ray-Billy Ecstein-Patti Page ET AL. My favorite squeeze, was Patsy Ballard a great slow dancer--by the way, is she still out there? THOSE WERE THE DAYS MY FRIEND Lou Giorno
lou giorno, mr g dos [05-10-2011]
Jbs Contact me we have a lot to talk about
frank crawford [05-08-2011]
I WOULD LIKE TO WISH MY FAMILY AND FRIENDS ON THIS WEBSITE,AND THE WEBMASTERS WiFE A HAPPY MOTHERS DAY ! Joe O'Donnell
Joe U'Donnell, Living in Eden,N.C. is a Tornadic and Thunderstorn nightmare [05-08-2011]
Thank you. And a happy Mother's Day to all. Here's the historic plaque that is on the east side of Philadelphia's City Hall, on Market Street.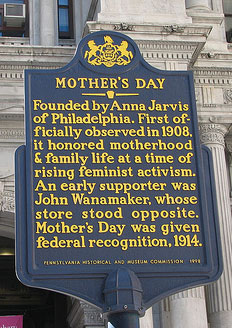 Reading Ed Burke's post about Cardinal Dogherty HS, I was reminded of a story told to me long ago by an aunt who lived nearby. She said that on Oct 30, 1938 -- the day before Halloween -- when Orson Welles' first broadcast of War of the Worlds came over the radio, simulating news broadcasts about a Martian invasion, hundreds of terrified (and very gullible!) people who lived in the area went out into the big open area where CD was later built to watch the skies for the aliens. It was a brilliant bit of broadcasting on Welles' part but scared the pants off of lots and lots of folks! See http://en.wikipedia.org/wiki/The_War_of_the_Worlds_(radio_drama)
anonymous [05-08-2011]
Anonymous Musicologist: I am impressed that you are a big fan of Eva Cassidy,truly one of the great folk,blues,and jazz singers in America. It was such a tragedy that Eva had to die so young. Possibly, you might have heard her perform in Washinton in one of the clubs like The Blues Alley. However, I do think that you engaged in hyperbole when you suggested that one would forget Judy Garland after hearing Eva's "Over The Rainbow" which was fantastic. I am of the school that certain songs fit a singer like a glove on a hand- Judy Garland's Over The Rainbow fits that aforementioned description. Eva also did "Fever" and nobody could give you "Fever" like Peggy Lee-that lady was soulful. Tennesse Waltz was also covered by Eva and one does not have to be a sage to go with Patti Page on this great number. In my humble opinion, Eva's best song was "Autumn Leaves" and nobody did it better-not even The Great French Singer,Edith Piaf,who I first heard in Europe in the 60's. Nobody could belt out "Milord" like the famous Edith Piaf. Only Marlene Dietrich could sing "Lil Marlene " with so much feeling and emotion-in German and English. Who could do Jolene like Dolly Parton? In the village in the 60's, there was an American-Indian by the name of Karen Dalton and she reminded me of Billie Holiday. She was the best when she did,"It Hurts Me Too". Germantowners liked music and that was quite a call comparing Eva to Judy.
John Bruce Schmitt [05-08-2011]
JBS and DDT: I don't remember that math episode at all; must have been very insignificant to me.(Funny how insignificant, fleeting events in the life of a person can be indelibly carved into the memories of others. Just goes to show that it is wise to consider the impact of one's words and actions on others; an offhand comment or sharp retort may linger forever and return to cause pain and sorrow.) I'm pleased, however, that the original characterization of the event as 'correcting the math teacher' has morphed into 'teaching the math problem'. Big difference. I wonder whether the math teacher was Sr. Laurentia or the beloved Sr. Mary Fenton. I can't recall the latter ever getting it wrong. RIP Sister Mary Fenton, SJ.
Catherine Manning Muir, Celebrating Mother's Day and my husband's birthday today [05-08-2011]
JBS Its me Check my email address and my numbers are there.My wife and I were regulars at the Jarretown when your family uwned it
Frank crawford [05-08-2011]
To John DiRenzo - Hey Johnny-Boy! Do you remember me? Steve Swift from 603 E. Stafford St.? We used to climb up on the garage roof at the lots.
Steve Swift, E. Stafford St. [05-08-2011]
the importance of commas: woman without her man is nothing. woman, without her, man is nothing.
Joe Lynch/ Eats, Shoots and Leaves/ Eats Shoots and Leaves [05-08-2011]
To all north catholic grads. I recently heard that the reason that both north and cardinal dougherty closed there doors forever, was that the archdiocese of Philadelphia, in order to pay to retain a large law firm in the city, for the purpose of litigating the priests that molested boys. If this is true then I, for one, will never put another dime in the collection basket at Sunday mass. The Church has protected these criminals long enough by shifting them from parish to parish. The bishops and cardinals are as much to blame. Can anyone confirm or dispute this?
ed burke [05-07-2011]
JBS: Last word on Mary Queen of Scots. Her first husband, the sickly son of the King of France, lasted only two years before dying; her second husband, Lord Darnley was a bad dude and was murdered (the gossip was that Mary had a hand in it and she certainly had grounds); she then married the man she loved, a Scottish nobleman, but the people blamed him for killing Mary's husband. She fled to England where her cousin Elizabeth jailed and then beheaded her. (See http://home.earthlink.net/~zzz12/ ) Moral of the story: women need to be self-reliant; no man on a white horse is going to rescue us and carry us to safety.
Catherine Manning Muir, shivering in Outback Oz [05-07-2011]
JBS - you make me feel so good with the complimentary adjectives which you have used to describe me. Nice of you to say, "I was a good conversationalist" instead of talks a lot. I spoke with another classmate about CMM and the math problem. As soon as I mentioned the name of the math teacher, the other "girl" immediately finished the story about CMM & I teaching the math problem. i love reading what you have to write. I do not know many of the people but then there are lots that I know by name. You posts are most enjoyable to read.
Denise Duckworth Tumelty [05-07-2011]
Frank Crawford: Are you Frankie C. who went to SFA in the 50's and was a friend of Jerry McKewon. Jerry McKewon went to LaSalle with Tom Cueball Cusack who you mentioned in your last post. Recently, I was talking with Pat McIlhinney,our classmate from SFA and he mentioned that Cueball Cusack just had a major birthday. Cueball is still friends with Al Patrizi and they play golf-we know who is the better player but Cueball's rep was dancing. Frank! I have not talked with you since we graduated from SFA but I might have seen you in your hot Ford- you were a car-guy like many guys on Morris Street. I recall going into the candy store with you at Greene&Logan and you had 10 bucks and 2 hours later, you fed the pin-ball with 40 Quarters. I played basketball with you in the cage at GBC and football across from your grandmother's on Manheim St. Frank Sharpy Felice, lived on that same block and he was also our classmate at SFA. Al Paris was in our class at SFA and he posts on this site. He might have gone to North with you. I see that you live in Dresher which has many nice homes and a great place to live. I lived north of you on Limekiln Pike in the sleepy village of Jarrettown. My family owned The Jarrettown Hotel for many years. It was an old stage-coach stop and now it looks like a mausoleum. When I visit my mother at Gwynded Estates, I hang out at The Springhouse Tavern on Bethlehem Pike. I hope that you get in touch with Cueball Cusack and wish him a happy birthday for me.
John Bruce Schmitt [05-07-2011]
Hi John DiRenzo! I remember you from East Stafford St. Yes, Butchie (Peter) Vitelli is my brother. Sorry to tell you he died from cancer in 1979...Agent Orange- Butchie was a US Marine and served in VN. I remember your sister Phyllis too. Hope you are all doing well. It's so wonderful to read all the messages about Germantown! We all have great memories. naomi
Naomi Vitelli [05-07-2011]
"BUITONI (Sing it along with me!)MACARONI SAUCE AND CHEESE, B-U I-T-O-N-I, BUITONI'S SURE TO PLEASE." (Applause)
Joe Lynch/SFA57,/LSCHS61/Yes, I'm lying but hear me out. [05-07-2011]
Being from the east side of Germantown, I never knew the Germantown Crane's on Queen Lane. I did eat at the Andorra Crane's though. Still, I was only coming of legal age when the Germantown Crane' s closed. But, I have heard about it from so many people, here on this blog and elsewhere. JBS mentioned it in a recent post. Two things seem to resonate from EVERYONE familiar with the place ­ friendly atmosphere and strong drinks…. Sounds like it was the Germantown version of Cheers.
Dennis McGlinchey, Born & raised in East Germantown [05-07-2011]
Hey, if there are any other childhood friends out there from Holy Rosary, or who lived around that area, please give a shout on this site.
John DiRenzo [05-07-2011]
Bob Smith: I enjoyed your recent posts about Germantown and the comments from Erda Graham who lived in your old neighborhood in West Germantown. You went to St. Vincent's and I knew many folks from that great school-my mother even assisted them in their selection of books when she worked at Vernon Library. At the luncheon on May 1, I talked to Erda Armstrong,Helen Leone,and Vera Carey-all former St. Vincent's students and very charming ladies. I was a SFA guy and I competed against your guys athletically- Jerry Gorman and Bob Chesko come to my memory. I would walk down W. Queen Lane and I would cross paths with George Weller,Wayne Armstrong,Chickie Fes,Jim Collins,and John Pinto-they all went to St. Vincent. You went to Crane's as did many Germantowners-including yours truly. It was a great place to hang out-strong drinks and friendly patrons. I also went to St. Catharine's on W. Penn and many St. Vincent folks attended Mass there. Your comments along with Erda Armstrong really resonated with me since all of us were forced to leave our lovely old Germantown homes. I did use the K-bus but neither my brothers or I went to CD. I did know many guys who went to CD and my friend,Bob Harrington[RIP] coached basketball there for many years. I find it so ironic that CD was such a big school and my alma-mater,The Prep,is still in business. I am also so very sad that North closed. I noticed that you live in beautiful Erwinna in Bucks County. I had a home in Carversville which is down the road on Route 32. I really like River Road with all the cool restaurants and the beautiful Delaware River. There is a beautiful view from The Sand Castle Winery in Erwinna. Recently,my sister wanted to see the covered bridge in Erwinna. Are you old enough to remember the old song,"Cross Over The Bridge". Many former Germantowners have moved to Bucks County and that is a great choice. Obviously,you are fully engaged in your renovation and that is a good way to implement your creative talent. Bob! Keep posting and possibly some of the Germantowners could have a mini-reunion at one of the great spots in Bucks County.
John Bruce Schmitt [05-06-2011]
Linda Fontana: You did another great job organizing the mini-reunion in Hatboro on May 1. We had great conversation at our table with The Leone Ladies,The Dawes Brothers,and The very friendly Denise Duckworth Tumelty from Ocean City. For me, it is always a positive experience to break bread with Germantowners-they are good people.
Bruce S. [05-06-2011]
Tommy Cusack contact me
Frank Crawford, 60s Dresher Pa. [05-06-2011]
Linda, It was great meeting everyone on Sunday. Many thanks for your kind words. I am looking forward to the next luncheon. Naomi V
naomi vitelli, 62 and living in Abington :) [05-06-2011]
JBS: Somewhere Over the Rainbow: by the late, great Eva Cassidy! Makes you forget Judy Garland.
anonymous [05-06-2011]
Denise Duckworth Tumelty: Thanks for those kind words/ and hope to be in touch with you again real soon..have a great Summer...Ciao for now, Linda "F"
L.Fontana [05-06-2011]
Naomi Vitelli, are you the sister of Butchy Vitelli??
John DiRenzo [05-06-2011]
Bob Smith I will start from the bottom. Joe Schmidt was from the IC parish and was in Yearsley with me.. He still plays the bugle and now performs and marches with us in the Reilly Raiders, Willow Grove VFW and Archie Eppler, Upper Darby, PA w .. He did ride the K bus. He and his wife are wonderful people.. Sorry to hear about your wife. Mike and I will be married 31 years in Oct. We went to St. Vincent's with his sister Rita. I saw Linda Dorf at one of the Germantown lunches in Hatboro La Fontana's. I think it was the first one. She looked great. Several years back there was a St Vincent's reunion it was a blast seeing everyone. It was a mix our class and the ones behind and ahead of us.. I has a small gathering at my house afterword with some of the gang form our neighborhood.. Chris Gallaher, Pall and Sally, Jack and his wife. Albert could not make it and you I could not find at the time.. I tried but do you know how many Robert Smith are in the Delaware Valley??? A Lot… :o) I Know where Erwinna is. Our uncle Bill Armstrong and his wife Aunt Nelly owned the Riegelsville Hotel back I the 60's. Some of their Grant Grandchildren are still in the Area.. It is right on the river and you can walk to NJ on the bridge right in front of the Hotel.. Nice area! It would be great to see you again, so we could sit and talk and remember the good times in Germantown. It would Vera lived in the same house as Paul. Paul's parents bought it from her mother. She is Sally's cousin, and is a great lady and good friend. She is more Joe's age then ours..I think a year or so younger then Joe was.. We lost Joe to Cancer in 2011. His Wife moved to San Francisco where 2 of his sons lives. The Third son lives in Swell NJ. Maryalice is still in Germantown in our Grandparents house. When I still lived on Morris Street some of the old neighbors where still there.. John O'Connell, Jack Burch, Mike DiGennaro and I all were living in our parent's houses; I was the last one to leave. Rita is still there with Greg. The Parkers were still in your Grandmothers house.. Email me and we can chat about the good old days.
Erda Armstrong Graham, From the Westside of Germantown [05-06-2011]
CMM: I am a reserved guy from G-town and The Prep and some women can be difficult to understand but the 2 old Queens from Scotland and England are in another league-Mary and Elizabeth. Elizabeth I of England could not possibly have a normal relationship with a man, knowing that her father, Henry VIII, had her mother,Ann Bolelyn, killed. Mary, Queen of The Scots, suffered with a Greek Tragedy, losing her 1st husband,and seeing her friend,Secretary David Rizzio killed, and then her 2d husband and herself assassinated. Even if I had a degree in history,psychology,and woman- studies, I could not possibly comprehend what lit their fires. Joe Lynch and Tom Cusack,2 great Lasalle dancers,who have a fair understanding of women, would have a problem figuring those old queens out. Incidentally, Joe Lynch would never think that you are cheeky since he would never have taken a cheeky damsel to his senior-prom. He should have danced Cheek to Cheek with you and been in heaven. Cheek to Cheek is an old song and I love the lyrics. Eva Cassidy[RIP] did a great version of Cheek to Cheek. Eva was part Irish and Scottish and her music would really resonate with you. I liked her cover of "Danny Boy". I sat at The Hatboro Luncheon with 2 ladies from CA-Denise Duckworth Tumelty and Linda Fontana. They had good rapport-especially when they talked about jewelry. I spent a lot of time in Sante Fe where the ladies looked like a walking jewelry store with all their jewelry-including Turquoise. Denise could hang out in Sante Fe if you know what I mean. Catharine! I hope you survive The Aussie Weather- A good book,Cognac, and some good mellow music might help.
JBS [05-05-2011]
Erda, what a wonderfully human recounting of childhood days, written in such pure honesty and eloquence.I can hear the crap apples dropping as the lads shake the trees yet! Yes, there was the concept of 'community" there near those railway lines and brick buildings...but it had become dangerous and violent in the town I love so well. It was, on reflection, very difficult for the adults to decide to leave. But they had to so that their kin would be safe. I honor their decisions-our own parents were forced by the city to sell out for a highway plan that never materialized. I also admire deeply those who have stayed in Germantown and have made a difference-to wit, your own sis, Maryalice.
Jim McKernan, St Vincent dePaul 59' [05-05-2011]
Naomi Vitelli: I just wish I had more time with everyone there to speak individually at length...next time, I will be better at that, I promise. Linda "F". P.S. you are so young looking and pretty, God blessed you with that....have a good day.:)
L. Fontana [05-05-2011]
Bob Smith, I sat here reading your memories and it was like a spark of joy and sadness all at once.. We shared so much in those day Like you Mother selling our house on Morris Street in 1998 was a bitter sweet experience.. I had to choose between the home I loved or the safety or our youngest son. Several times a week he was mugged at the Chelten Ave Train station coming home from School. We reported it but the police said our neighborhood was not a priority. Rob would wonder the neighborhood because he did not what them to know where he lived. When the shooting happened on Morris Street behind where Darrow's used to be we said that is it! We have to sell.. If we did not have a child who had to walk from place to another I think I would still be there..I cried that last day we walked out of the house. There is nothing like those big homes that were built to last forever.. When your parents told us they were selling I was sad.. My husband was in service and I was expecting our daughter living at home.. I really wanted to buy it but your father said he would not sell it to me it needed too much work. I know now it was a pipe dream but maybe I thought if I could buy it thing would not change that much in the neighborhood. And I would see you again when you got home. In a way I knew we all where growing away from the neighborhood but I really did not want to see that happen. I hoped it could be like it was for our parents.. and our children could grow up with their grandparents right around the corner or accross the street I have fond memories of us running up the front steps and down the back. Your Mother was a saint that it seemed like nothing bothered her that we kids did.. We played for hours in our yards, picking the pears from Burells tree, the grape vines between our yards. Out side most of the summer days..We would go early in the morning to Clarks park and not go home until dinner.. And got along with everyone!. I remember how happy I was when you moved back we renewed our friendship in School as well as the summers. We all walked to and from school together. You, me Albert, Paul, Chris, Sue, Jack, and whoever else joined us.. That was the normal. I would sit on the back step and hear your mothers radio and she would sing to the songs.. She would talk to me out the window..After I got married Your mom was more like a friend instead of someone's mom. We were never alone in the neighborhood.. As a teen all you had to do is sit at the fountain in Darrow's and someone would come along to pal around with. It is a shame that our children and grandchildren did not experience that closeness of family, neighbors and friends..
Erda Armstrong Graham, From the Westside [05-04-2011]
I was given this web site to read from a friend-you guys have so many great memories ( and so sad), we use to visit my uncle peter Mcgarrity at St francis of A-run through the rectory, use the elevator and eat cookies in their kitchen-It's interesting also to read and hear about my grandfather, Joe McGarrity and the easter uprising-The parade was 4/17/11 this year-every time i go to that i can't imagine the thirst for freedom the irish have-thanks for all the stories and i will tune in-my email is regb6@aol.com if you have any more history
Regina Mullen Bocchino, Joe McGarrity grandaughter, neice of msgr peter mcgarrity [05-04-2011]
Linda - how nice of you to write individual comments to so many. I truly enjoyed the day & hope to be at the next one. Driving back to the shore, I thought of so many things I wanted to talk about & find out about. I'll have to start a list so i can remember (senior moments). Again, thanks for your efforts.
Denise Duckworth Tumelty [05-04-2011]
Mary Alice & Erda, everyone is gone in my family except for me and my brothers. Mike lives in Doylestown, John lives in Bensalem, and Kevin lives in Levittown. Brother Bill stayed out in LA, I came back in 1978, 2 years was enough out there, we both worked for ARCO at the time. I was married for almost 32 years and in 2007 my wife Patty passed away from breast cancer. Soon after I moved out of Doylestown to a foreclosed property way up in Erwinna. I live on top of a hill overlooking the river and the Frenchtown Bridge into NJ. I live in a rancher built in 1970 it needs a lot of work… having fun doing it. Good to be in touch again. About two years ago Maureen McMahon had a Germantown reunion in Doylestown. Linda Rostic, Carol Palmarie, Joyce Norman, Paul & Sally Ginty, George Schuler, Linda Dorf Peggy Taylor and others attended, I had a great time. Another reunion would be great. The only one missing was Al Bradley. My brother Mike has hooked up with Bob Dumphy. John Bruce Schmitt ----- Cranes was a standard Friday night for most of our parents,,,, stiff drinks and great deviled crab cakes. Did you have brother that went to Dougherty? Erda that guy Schmitt we used to ride the K bus… he played horn I think? Wasn't Vera an O'Connell cousin? Her family lived next to Paul Ginty
Bob Smith, Erwinna PA [05-04-2011]
Hi Erda- It was great to see you at the Germantown reunion Sunday! It was fun seeing you after so many years. Naomi
Naomi Vitelli [05-04-2011]
Hi Rosemarie Hite- Malageri, So good to meet you. We had a great time at the luncheon. Naomi
naomi vitelli [05-04-2011]
Hi Linda, Many thanks for a great time at LaFontana's. It was wonderful to meet you. A fun time was had by all. Naomi
Naomi vitelli [05-04-2011]
Tom Cueball Cusack: It's good to see you posting again since I thought that you might have fallen off a cliff or fell in love. I agree with The Bor that you must be feisty to travel in The Old Hollow neighborhood. It is difficult to be a liberal when one looks over the destruction that has taken place in Germantown. You got some points with Bor when you made some kind remarks about The Goo-your old neighbor. You did not mention how The Guarinello Store looked. I guess Doc Flaherty's office is demolished which was next to The Hollow-your cousin Jack had quite the personality. On Sunday, I was talking to Ken Duckworth's sister,Denise, and she is a good conversationalist and the Germantowners were impressed that she came to Hatboro from Ocean City. We talked about a lot of your classmates from SFA including Joe Chalmers,Steve Stevens,and Henry Mingle. I remembered these lads from The Prep. Did you ever take dance-lessons with Mrs. Stevens on Logan St? Fran Dougherty's name came up and he died too young-not as tragic as Mary Ann Mitchell but at the same time,it was tragic. We did not discuss Norman Lineheiser who went to LaSalle with you and died in a car accident. Your good and very strong friend,Al Patrizi, survived that bad accident. I talked with our mutual friend,Pat McIlhinney, who came to Rider for a reception for Ludmila,my beloved wife. Pat is a glib Germantowner and The Professors were listening to him-he could have been talking about Gold. I like these Germantown mini-reunions and I don't mind hanging out with some of the old hound-dogs from Fernhill-get something going. Cueball! Keep dancing and prancing but no more barking.
Bruce S. [05-04-2011]
Bob Smith, I sent you an email.. I hope you enjoy it.. We did have a good time growing up on Morris Street.. How are your brothers.. I can close my eyes and see your mother at the kitchen window talking to my mom.. The radio was on.. The games we played as kids and just hanging out in the neighborhood...
Erda Armstrong Graham, From the Westside [05-04-2011]
Hey Susan Hoseal Frattorola, It is so good to see you on this site. How have you been ... its been forever since i saw you last ... I hope all is well with your family. Keep in touch! Rosemarie p.s. You say your old and gray ??? So why should you be any different from the rest of us ... :>) Join the crowd!
rosemarie hite malageri [05-04-2011]
Bob Smith, I enjoyed your post of memories. Thanks for sharing that. To all, here is an awesome video that captures the spirit that is America, Americans, those who who fought for our freedom, and those who died for it..... The face of evil is now sleeping with the fish, but I sense the war is far from over.... Those fish probably thought they were getting a free feast, but probably now see starvation as a better option..... http://www.youtube.com/watch?v=Q65KZIqay4E
Dennis McGlinchey, Born & raised in East Germantown [05-04-2011]
David Floyd: I noticed in your last post that you lived near Chelten&Morris. Bob Smith mentioned that he knew Erda Armstrong from that neighborhood. Erda and Vera Carey came to the luncheon in Hatboro on Sunday and they would have enjoyed talking to you about their days at Darrow's and possibly hanging out at The Del-Mar Morris which was located diagonally from Darrow's. My watering hole was Crane's at 333 W. Queen Lane. In one of your blogs, you mentioned the dicothomy between Crane's customers and the tenants of The Queen Lane Project. You suggested that the folks who imbibed at Crane's were rich. One night, I 'm talking to a lad by the name of Pew and I say,"You Must Be In The Oil Business"- he was,"Sunoco". His first name was Andy and he was a dandy. Another time, I was having a few pops at The Bar with a guy by the name of Don Burns. I was drinking vodka straight-up in a tumbler-glass and a businessman asks me,"Why I Only Drink Water?" I ordered another Vodka,no chaser and he thought that I was drinking anti-freeze. He asked Don Burns who owned Mrs. Schlorer's, his occupation. Don,a glib Irishman, retorts,"I sell mayonaise". I'm a reserved college-kid and hanging out at the bar with friendly older guys. Skip Wilson,The Temple baseball-coach would pop his head in and tell a few stories. If you keep posting on this site, you will read about Happy Hollow and Bobby Goo Guarinello-The Goo. One Friday-night, I'm hanging out at Crane's, having my straight-vodka on a winter-night and telling Goo how fudging great of a shooter he was. He buys me a Black-Russian and tells me to forget plain-vodka. It was expensive,and too many calories and I was introduced to this cosmopolitan drink by the legendary Goo Guarinello of The Hollow. Goo would have said," We finally got that no good mother-scooter and fudging sucker-Bin Laden. I find it ironic that you are living in affluent Jenkintown where Don Burns and John Connolly,Crown Cork&Seal lived in the 60's when I frequented Crane's. I would say,"The Drake",in Jenkintown would be similar to Crane's. Tom Crane has a restaurant in Hilton Head,SC, and it is similar to Crane's of G-Town. Some bloggers on this site stop there for dinner and a little liquid-libation. Dave! Keep posting and you are the voice of "Pulaski-Town.
John Bruce Schmitt [05-02-2011]
Sorry to have missed the luncheon yesterday. May 1 is my wedding anniversary and we went away for the weekend. Glad to hear that everyone has a good time.
Maryalice Armstrong Brennanm, Still in G'town [05-02-2011]
Bob Smith, Good to see you here. How are you? And your family? E-mail me of you don't want to write on here.
Maryalice Armstrong Brennan, Still in G'town [05-02-2011]
James F Breen, sorry but you are wrong. Gary Michael Heidnik was the last person executed in Pennsylvania. He withdrew his appeal and was put to death on July 6,1999. Elmo Smith was the person to get the electric chair. I may be a liberal but I do believe in justice. Both Elmo Smith's and Gary Heidnik's deaths were justified. After their release I had the responsiblity of caring for several oh Gary Heidnik's victims. He was a sick sick person. I was a freshman when Mary Ann Mitchell was killed. I do remember all the stories and how scared we all were.
Maryalice Armstrong Brennan, Still in G'town [05-02-2011]
Rosemarie, I sure did miss you.. I was looking forward to sharing some time with you.. Next time. I hope. Erda
Erda Armstrong Graham, From the Westside [05-02-2011]
Little Tommy Cusack...Thanks for a lovely tour down memory lane.You still have those Irish gullones to go back to the Hollow after all these years.Were you able to squeeze your frame through the wrought iron fence?Did you spend some time on Moe's steps thinking about your many friends from the Hollow and Fernhill?....Paul Borian
Paul Borian, Al Alberts and the Four Aces(Halladay,Lee,Oswalt &Hammels) [05-02-2011]
Naomi Vitelli I was so happy and suprised by your visit .. it truly is a small world isnt it? Thank you! Hope to see you again! Rosemarie
rosemarie hite malageri [05-02-2011]
Denise Tumelty: I was ecstatic when you arrived, because you drove so far from Ocean City to be with everyone on sunday....you added a lot of livliness to our table..The conversations never had a 'lull' in them at all...always something interesting to chat about, for sure.Thank you....for that...and also I will drum up business for you down the shore..my Silpada sister/take care, again many thanks for coming, Linda "F"
L.Fontana [05-02-2011]
To the Women at Naomi's table I am so very sorry that I didn't get to spend more time with( all )of you...hopefully at the next one, we can catch up even more..Thanks for attending....I hope you had fun and ate enough,too. Fondly, Linda "F".
L.Fontana [05-02-2011]
JBS: Once again, you made us all 'happy' at the table by imparting your pearls of wisdom and knowledge /& with your sense of humor mixed in,too. Thank you so much for being at the Luncheon this past sunday, you made everyone smile..God bless you, Linda "F"
L.Fontana [05-02-2011]
Helen: You are one 'Classy Lady'...and good looking,too..it was a complete honor and pleasure to sit in the company of you and your cousin, Sue, this past sunday afternoon/ and 'break bread' all together..thank you for coming. See you in December...
L.Fontana [05-02-2011]
To all "G" Towner's...wow, what a weekend/ and super lunch gathering, on sunday at LaFontana's.."To anyone who said they would make it, and then didn't....you missed a fun afternoon with really nice former neighbors..I think there were seven people in total who were not there.....who confirmed with me....but, it is fine/we hope to see you in December for our Christmas One....Have a great week.Linda 'F".
L.Fontana [05-02-2011]
I spent my first years 1947 through 1952 at my grandfather's house at 5534 Morris Street. Like many other houses on the west side, this was a huge Victorian with a sizeable yard, built in the mid 1800's; he paid $20,000 for this house before the depression. My parents had an apartment up on the third floor. I have some early memories of that time; but not too many, Erda and Mary Alice Armstrong lived next door and most of my memories were associated with them and my close relatives that either lived with us, or just down the street. In 1952 my father took advantage of a VA loan and Levitt's mass production techniques to buy a home in Bucks County, $100 down. After the war homes in Germantown were in demand and availability combined with high price did not make a purchase in Germantown easy. The day we moved I remember hearing relatives say "Levittown was so far away and without a car?" they doubted they would see us much. I was 5 years old then and I distinctly remember the contrast of the pleasant tree shaded Morris Street to the muddy and barren Levittown. But after time the grass grew and we became accustomed to life in the suburbs. My dad worked in Philly and we were about 1 mile from the train station, he walked both ways. We had to walk everywhere people would feel sorry for this man with three small sons trailing behind, walking to Mass on Sunday and pick us up. Sometime in 1953 or 54 there were some significant riots in Levittown: paradise came crashing in for some folks when a black family decided to purchase a home in the Dogwood section. Well my mom decided to send us two older boys, there were 4 of us by then, to Germantown for the summer "to be safe". For the entire summer we lived with our grandparents, aunts and uncles and Polly, who came over on the boat with my grandmother from Ireland [Mayo]. We got very spoiled eating dinner at Darrow's frequently, going to the Orpheum for the $.25 matinees, and the Wisahicken was just down the road, within walking distance. My other Grandmother lived on just down the street by Woodlawn, next the Zounds shoemaker shop. Gilbert Zound my father's best friend growing up was by then was a dentist. Dental work for any of us and we had to take the 52 trolley all of the way up to his office on Wayne Av, somewhere in Mt Airy. Ironically I spent most of my time at a city Recreation Center [CLOVERLY] park, Schoolhouse Lane and Wisahicken. We used to call it CLARKS Park? The irony here was that most of the children were from Pulaski town: also, most of the staff was black. I developed quite a few friendships and would play there from 9AM until 5PM every day. This tradition continued, in subsequent years we would spend many weeks of the summer in good old Germantown. My Grandmother [from the big house] passed away suddenly in 1956. My Mother and Father made the decision to move back to Germantown, to care for my Grandfather and younger Aunts and Uncles. The Germantown house had 10 bedrooms, our house in Levittown had only 3: by then we were 5 brothers so we were pretty cramped anyway. From 1956 through my draft in the Army in 1966 I had perhaps the most unusual life living on Morris Street. With all of the individuals living in the house it was a lot like a hotel, a lot of comings and goings and excitement. Many of the neighbors took in exotic boarders from Textile University. I could really write a book on these events and perhaps someday I will. The thing about Germantown is that my situation was not that unusual, it seemed old family values and loyalty prevailed. Of course these were very different times as well; but Germantown added a layer or perhaps a filter all its own. I was in Vietnam when I received notice from my mother that the family had sold the House on Morris Street, this was in 1968. The issue by then was schools and safety for my brothers. I remember my mother's letter, very apologetic almost like she felt shame for deserting our neighborhood. My mother insisted on selling to the "right people" as to not put our neighbors in a bind and my parents took a significant hit on the $11,000 selling price as a result. Just two years before my father converted from coal heat to a commercial gas heater for about $5,000, the last of a string of significant improvements that was not recovered from the selling price. When I came home from the army I had to take the train all the way up to Levittown again. My father by then was working in NY City and had a car. Levittown was a much less expensive alternative to Long Island or West Caldwell.
Bob Smith, From Upper Bucks - Erwinna [05-02-2011]
I remember the death of Mary Ann Mitchell and the brutality that was she was treated with ...I believe our belief in how safe we were was certainly taken from all of us after Mary Anns' death. I hope Elmo Smith is burning in hell for what he did to that poor girl ... I also remember the little boy in the box and i beleive something was on about him just a few months ago ... so sad! Rosemarie
rosemarie hite malageri [05-02-2011]
I loved our old neighbooh and all the kids
susan hoseal frattarola, im old and gray and look like my mom [05-02-2011]
JBS: I'm glad you enjoyed your companion at the luncheon and glad that she had nice things to say about me, although I don't recall ever correcting the maths teacher, which would have been a very cheeky (and risky) thing to do. As for the 'Virgin Queen', maybe because she never married, guys flattered themselves that she never had a tumble in the hay but they were wrong. As for Mary's secretary Rizzio, nothing of the sort; he was a faithful and devoted servant, to his detriment, and he was 'done in' in a monstrous fashion by other men who wanted access to Mary's power, position and bed. Rizzio is a heroic character in Tudor-Stewart history and his presence is still in that tiny office at Holyrood Palace where he was slain. (Here in Oz, autumn has set in big time, as it always does after Anzac Day; warm days and cold nights, dark by 6pm, gas fires burning to take away the chill.) Happy May Day and good riddance OBL! Hope the virgins Allah rewards him with all have the clap!
Catherine Manning Muir, proud of the brave men who took out Osama bin Laden [05-02-2011]
Bob Smith, Welcome to this site.. Hope to hear more memories from you.. We share so many of them.. Had a wonderful lunch yesterday with Vera Carey, 3 of the Vitelie Girls and Joan McDevitt..We talked about a possible Morris street Reunion.. Keep intouch. Your friend from 5536 Morris Street Erda
Erda Armstrong Graham, From the Westside [05-02-2011]
Hi My apology to everyone who made it to the G-Town luncheon on May 1st. I am disappointed that i was unable to make it but, family comes first and something came up at the last minute with my family that required I be there ... hopefully next time around i can make the luncheon. I always have such fun spending that time with all of you ... Rosemarie
rosemarie hite malageri [05-02-2011]
My Step Dad had a good friend who was a Detective in South Phila., although he didn't work the Mary Ann Mitchel case, he still had knowledge the public didn't . I remember listening to my Step Dad & his friend talking about the arrest of Elmo Smith, it was said that Smith confessed to picking up a Hitchhiker & dropping her off in Andorra . ( BTW, Smith later recanted his confession ) . After interviewing all those who knew Mary Ann, Nuns, Priests, family, neighbors & friends, they all said the same thing " Mary Ann was a gutsy teen who didn't mince words, she would never have been hitchhiking & even in the rain would not have accepted a ride with a stranger . " Trauma to the back of her head suggested that she was bludgeoned & drug to the car " ABDUCTED " and that was how the District Attorney presented the case in court . You have no idea what it was like for the parents of Mary Ann, her Mother was never told all that Smith did to her, she was always under the impression what was done was post mortem, only Mr Mitchell knew the truth .
Dolly, ne [05-02-2011]
Thanks to all who put together the luncheon today. It was a nice time with good food. I liked putting faces to names from this blog. Those of you who could not make it today, try to be there in December. Weather is a little tougher in the winter but the camaraderie is worth the effort.
Denise Duckworth Tumelty [05-02-2011]
On Saturday, April 30th, I met Al Patrizi at Happy Hollow around 2 PM .. there was supposed to be a dedication ceremony that day ... the Hollow is the oldest playground in Philadelphia and apparantly that was going to be cited. Well whatever went on that day, we missed it. However it gave me a chance to tour the old neighborhood a little bit and here is what I have to report ... Things that aren't there anymore: Griffith Nursing Home on Pulaski Ave.; practically all the big old single homes on the odd numbered side of Pulaski from Apsley to Abbottsford; the trolley tracks on Wayne Ave; the Wyneva Apartments at Wayne and Wyneva; practically all the old homes on the even numbered side of Wayne Ave between Abbottsford and Apsley; Herb's Bar at Berkley and Wayne; The Wayne Junction Diner; Bobby Kephart's house on Seymour Street. Things that are still there: my house; Al' house; Nick's Bar at Wayne & Logan; Moe's steps; the row of stores where Sal's, Fasano's, and Palo's used to be; the old Kane & Brown Hardware store; Kodner's Drugstore; Wyneva Pharmacy; Davis Buick's building on Wayne Ave.; Fernhill Park and Happy Hollow; and lastly the heavy wrought iron fence between Wayne Avenue with the one rung of the fence that is bent so one can squeeze through ... reputedly larger-than-life Goo bent the rung as a community service to all the skinny guys in the neighborhood ... a totally selfless act since Goo could not fit through the opening. Summing it up ... fond memories of the old neighborhood are better than the current day reality ... the fond memories are kept alive by the wonderful postings from all the neighborhoods of Germantown.
Tom Cusack [05-02-2011]
Thanks again dear lovely Linda for getting us all together on Sunday at LaFontana and for all the fine company present that day - I always come away refreshed.
HLD [05-02-2011]
David Floyd: Sure did, Darrow's had the best milk shakes & ice cream sodas... a bunch of us used to hang on the corner there: Paul Ginty, the O'Connell, the Falcone's, Bradley's, Browns, Mc'affery, Palmari, Rostic, McMahan's. I lived next to Erda and Mary Alice Armstrong fairly frequent bloggers on this site. During that time frame you used to be able to get spring water right by Rittenhouse town. It was also the start of the path to Valley Green….. I used to spend a lot of time in the park, riding bikes, horses [on Catholic school holidays you could rent for $2.00/Hr.], ice skating, and climbing the rock cliffs around Hennery Av. Bridge. I do remember distinctly the Mary Anne Mitchel murder and all of the misguided school yard joking about Elmo Smith. I took this personal because we shared a last name. I attended St Vincent's, 7th grade I think at the time, at a bad age to discuss those details with a group of boys.
Bob Smith [05-02-2011]
Catharine Manning Muir: I attended a luncheon on May 1,with other Germantowners, and I sat next to your CA Classmate and friend- Denise Duckworth Tumelty. Denise enjoyed her days at CA with you and your other wonderful classmates. She mentioned how bright you were and that you even corrected the math teacher. From this site, I do know that you have a great memory especially in the history of Ireland,England,and Scotland. I was very intrigued by your description of Mary Queen of Scotland and Elizabeth,The Queen of England. You used colorful language for Elizabeth. I saw the film,"Elizabeth,which was played by Cate Blanchett, in your case,a fellow Aussie. I did not like Elizabeth from history and the film did not change my thinking. You seemed to suggest that Elizabeth liked a tumble in the hay and had a penchant for libidinous encounters. I find that oxymoronic since Elizabeth was called,"The Virgin Queen". Queen Mary of Scotland had something going since David Rizzio probaly was murdered since he made the queen happy. You are a student of history and Katharine The Great of Russia had an International reputation for her voracious carnal appetite. It was rumored that she almost died after one ardous carnal encounter. The Germantown boys were so fortunate that our girls were so nice and innocent. I was also moved that your date from laSalle High climbed through the bedroom window- Joe Cocker,The Rocker, would have climbed through the bathroom window. I knew a couple of guys from G-town who jumped out of the bedroom window. I will not get into details because Happy Hollow Terry will get on my case. My blogs might be prosaic but your posts are pure prose and informative. The ladies from CA write so well whether it emanates from The Outback or The Jersey Shore. At the luncheon, we did talk about Mary Ann Mitchell, and May Mary Ann Rest In Eternal Peace.
John Bruce Schmitt [05-02-2011]
Elmo Smith is the man who ravished, tortured and killed Mary Ann Mitchel. Don't forget he was the last man killed on death row in Philly. None too soon for me. She was an innocent girl with a great future ahead of her. No pity for Elmo from this G-towner. Jim Breen, Saint Francis of Assisi. Bring it on you liberals. Jimmy.
James F. Breen, 63 year old, East Seymour Street. [05-02-2011]
To both parties: MAYDAY, MAYDAY, MAYDAY. The ship is sinking slowly. Have a nice May 1st.
The Mayflower [05-02-2011]
Just want to share with everyone something nice that happened to me because of this site. I received an e mail about a week and a half ago from a young lady asking if I knew her family. I certainly did. My mother was good friends with her aunts. She was also Godmother to her cousin. My cousins were good friends with her cousins. I knew the whole family, including her cousin she lost in Vietnam. My late uncle was good freinds with her late father, and I knew him very well. Well e mails led to a phone call and we talked for a good while on Saturday afternoon. She is so happy to hear from someone that knew her family in that she has done so much resarch of her family tree. I might add my grandparents lived right across the street from them. They were on Rittenhouse and my grandparents were on Wakefield next to the Fulton school. This is what this site is all about, the wonderful neighborhood of Germantown and the great people that made it that way. I will never forget growing up and hanging out in Germantown.
anthonyg [05-01-2011]
Did anyone see the "boy in the box" episode on Cold Case a number of years ago? Interesting theory not to be discussed in a public forum. I remember a flyer about him on the door of McAuley's food store across from HH a block south on Wayne Av. At the time, he was close to my age & a scary event. Tragic that it was never solved.
Denise Duckworth Tumelty [05-01-2011]
I am amazed that so many still remember Maryann Mitchell & the events surrounding her death, as I do each time I pass Walnut Lane & Henry Av. And CMM you are correct - the article said one of the 2 rings she was wearing was a class ring with MTM engraved on the inside. We received our class rings in October or November of Junior year so the murder had to be that December - 1959.
Denise Duckworth Tumelty [05-01-2011]
Bob Smith, Lived at Morris & Chelten 56 - 1968 [05-01-2011]
LF, Their are many people on death row, in Penna., that are sentenced and deserve to die but our laws hinder swift punishment.
Gman [05-01-2011]
Bob Smith: Lived at Morris and Chelten from 1960 to 1964 attended GHS and Temple University. Do you remember Darrow's and Rittenhouse Town?
David H.Floyd, Lived in Germantown 1955-1968. Retired accounant in Jenkintown [05-01-2011]
Ah, the Pub on Hunting Park ave great steak place and the Pub Tiki I remember it well, it was one of resaturants at the marriott hotel on Cily Line ave opened 1956?. from its opening it and the Marriott was one of my favorite places. I remember Goo, how is he doing??? Al Paris Fort Mohave
Al Paris, Fott Mohave, AZ [05-01-2011]
JL: Just proves what detectives and investigators have known all along: that memory is an inexact science and eyewitnesses to the same event will have very different recollections of it. I don't remember at all having a birthday party on 28 Dec 59 and if I did, it would have been my 16th, not 17th birthday. Wasn't that the night I was working at the 5&10 and you came in with a dozen long-stemmed roses? That's what I remember. My husband says I never forget anything, but you have so many memories involving me that I have no recollection of at all! It's a worry. Which one of us is losing the plot???
CMM [05-01-2011]
Interested in using a picture? Some text? click here.
To contact the webmaster, click here
Copyright ©2000-2013 by the Independence Hall Association,
electronically publishing as ushistory.org.
The IHA is a nonprofit organization in Philadelphia, Pennsylvania, founded in 1942.
On the Internet since July 4, 1995.