May 11, 1775
Barely arrived, I have already been pressed into action today. In view of Grandfather's return to town, the College of Philadelphia, which I am supposed to attend in the fall, decided to hold its Commencement with particular splendor in honor of the return of its founder, we-know-who. It happens that I shall be the first Franklin to attend this school — and possibly the last since I am the only young Franklin male alive.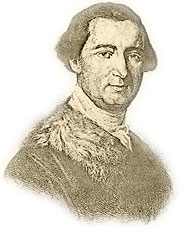 Governor John Penn (1725-1795)
The governor of Pennsylvania, John Penn, was there, as well as some delegates from the Continental Congress. A formal procession of town and gown, made up of the Trustees and the rich and powerful citizens of the town, slowly walked along Fourth Street until they reached the College gate, where the College's Provost, the Reverend Mr. William Smith, was waiting to greet them. I turned toward Grandfather, expecting him to introduce me, but he was in deep conversation with a friend, his back turned to us. As I stood still, not knowing what to do, the other boys propelled me forward and there I was, face to face with the local version of my faraway Mr. Elphinston.
— "And who could you be, young man?" he asked.
— "William Temple Franklin, Sir."
— "A relative of our celebrated Doctor?"
— "His grandson, Sir."
I was looking him straight in the eye, as I had been told to do, and saw him break into a grin. Not a friendly smile of welcome, it seemed. It was a sardonic smile, almost a grimace.
— "We are honored," he said, as if he meant the opposite. He did not extend his hand as he had done for the other boys. I felt ill at ease all through the ceremony. Had I done something wrong? Was it because of my "low" birth?