---
The Raleigh Tavern
The Apollo Room of the Raleigh Tavern in Williamsburg was the meeting place for radical members of the House of Burgesses in 1769 when the Governor of Virginia dissolved them for seeming contempt.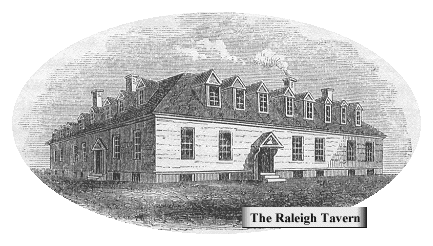 The Raleigh Tavern
Here they formed an early non-importation association in Virginia.
This was not to be the last occasion on which the Apollo room served revolutionary purposes. In 1773 the Burgesses met, under the leadership of Patrick Henry, to consider a committee of correspondence through which the resistance in Virginia would coordinate with groups in other colonies. In May of 1774, members once again found refuge at the Raleigh, when then Governor Lord Dunmore dissolved the Burgesses, as a result of their defiant resolutions against the Boston Port Bill.
The Raleigh, established in 1717, had long served as a focal point for community life. Named after the founder of the Virginia colony, Sir Walter Raleigh, it was the sight of a great many Balls, banquets, community meetings, and business gatherings. The original structure apparently survived until 1859, when it burned down. The illustration here was crafted by Benson Lossing around 1848.