Historic Valley Forge
George Washington: The Soldier Through the French and Indian War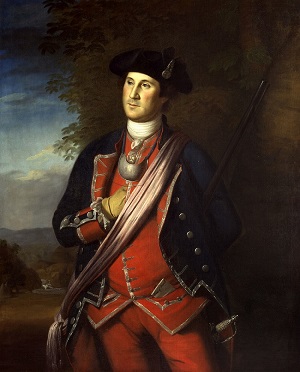 One of the many legends woven around the life of George Washington claims that his father discovered the child's military bent when he was quite a small boy and gave him a toy sword which delighted him greatly. While there is no more documentary evidence to prove the truth of this story than there is of the original cherry tree tale and the highly-colored romances attributed to his young manhood, it is definitely shown that he inherited the military tendency of the Washingtons and that this received decided impetus by the military atmosphere created throught the activities prevailing in the colony of Virginia in the raising of the troops to be send to the West Indies to combat the Spaniards.
Lawrence Washington, the elder of George's two stepbrothers, 14 years his senior, had offered his services and had been commissioned captain in the contingent that sailed in 1740 to join the combined expeditions of Admiral Vernon and General Wentworth. Little 8-year-old George may well have experieinced all of a small boy's thrilling excitement and admiration over watching the drilling and preparations for departure of Lawrence and his comrades for the scene of war.
The love of military affairs did not abate and pass as most boyish enthusiasms do, but developed into a fixed interest which was strengthened when the loved elder brother returned two years later and continued his own military associations by becoming adjutant of his district in Virginia with the rank of major.
Having inherited the plantation on the Potomac which he renamed Mount Vernon and taken himself Miss Anne Fairfax to wife, Lawrence Washington drew about him an exclusive circle of the best people of the colony, and retained his interest in both military and naval matters. Association with these men of society and affairs was of the greatest benefit and advantage to young George during the impressionable period of his life and enhanced and encouraged what was probably a natural military predilection.
The determination of both France and England to secure and hold the supremacy of the Mississippi Valley, and the growing indications of an impending contest between them, brought about a revival of the military spirit in the colony of Virginia, and through it came active preparations for any part she might be called upon to take in consequence. This matter vitally interested Lawrence Washington, who was associated with the Ohio Company recently organized to develop the region over the mountains, and while there is a lack of record on the fact, it seems evident that, with the aid of former army companions, such as Van Braam and George Muse, he had his young brother not only instructed in fencing but also in the elements of military science. From the beginnin of George Washington's writings upon his military experience there are evidences of great natural ability and also of training. Hence, when in 1752 Governor Dinwiddie appointed him a district adjutant of the militia, with the rank of major, there was probably in it a recognition that, in spite of youth, Washington possessed the requirements for the task.
To his military training he undoubtedly gave the same concentrated study that distinguished his school life and the study of surveying. He seemed to have been possessed of a passion to acquire all available knowledge on matters of paramount interest to him. Historians have discovered and preserved some of his old schoolwork, which shows an unusual grasp of mathematics. Regarding his knowledge of this science as manifested in these books, Washington biographer Charles Moore wrote:
The one devoted to Mathematics exhibits a wide range of subjects combined with sureness and accuracy in working and clearness and neatness of presentation. Few graduates of colleges today, unless they specialize in mathematics, become as well trained in that subject.
When it became necessary to take some action in regard to what was considered French encroachments upon English territory on the Ohio, Governor Dinwiddie followed the example of Lord Fairfax and selected Major Washington for the job. This was the second instance of the effect of George Washington's personality upon older people. The impression of efficiency, dependability, and high courage, which from boyhood had radiated from him, made an extraordinary impression upon those with whom he came in contact. This quality never left him, and it has never been disputed. It carried with it an unspoken assurance that he was fitted by some remarkable combination of talents for tasks he was willing to undertake, and that he would carry them through to successful completion if that were possible. While in others of his extreme youth the years may have implied limitations in the expectations focused upon his endeavors, this never seemed to be considered in respect to the tasks put upon his shoulders.
This quality was first recognized by Lord Fairfax, who marked by his confidence and comradeship the fitting of a man's tasks to the square young shoulders of a boy without cutting those tasks to a boy's measure. Just as George Washington stepped into a man-sized job as a surveyor, so when he accepted Governor Dinwiddies's mission to the Ohio he stepped not only into a man-sized task but into a path which led, as we now are able to trace it, directly to the American independence, of which he was the chosen instrument.
His training, whether theoretical in military elements or practical in surveying and frontier life, had fitted him for the duty. Through his knowledge of the rugged, hazardous life of the scattered, isolated pioneers beyond the settlements and the extreme hardships and emergencies of dangers to be met and combated in transportation, afoot, on horseback, or by canoe, he was not only grounded in self-reliance and resourcefulness, but what was a marvelous advantage for the man destined to lead a nation through eight years of war to victory was that he was wholly fearless. Never was George Washington known to feel or exhibit any fear in any situation. He is credited with saying that fear was absent from his make-up, and he could not tolerate cowardice in others.
By 1753 the situation on the Ohio region had become so serious through the French occupation, and their efforts to attach the Indians to them against the English, that Governor Dinwiddie, under orders from England, prepared a letter for the French commander which he intrusted to Major Washington for delivery, as it was a mission of greatest difficulty and danger, and of utmost importance not only that the letter be gotten to the French commandant but that a full report of the situation, the location of the forts, etc., be brougth back. One messenger had already returned, beaten and baffled by the dangers, before making any real headway, and the colonial governor pinned all of his faith to the young officer whose fearlessness, masterfulness, and good judgement had already made for him a place of distinction among his fellows.
Major Washington began his journey on October 3, 1753; and though beset with the greatest difficulties, extreme hardships, and actual endangerment of life, he completed this mission January 16, 1754, when he brought to Governor Dinwiddie the important reply and his own report with a map. This report which, although hastily written in a few hours from his daily journal, demonstrated George Washington's ability clearly and forcefully to express his thoughts in writing, the governor had it printed immediately, and it helped to arouse the Colonies and British Government to the importance and difficulties of the problem.
Pending Washington's report, preparations had already been begun by the Ohio Company to build a fort at the junction of the Allegheny and the Monongahela Rivers, and to complete and defend this a regiment of Virginia volunteers was ordered recruited. Washington was commissioned on March 15, 1754, lieutenant colonel as second in command under Colonel Joshua Fry with the main body of the regiment later. But before the small detachment got over the mountains the French ejected the little group of about 40 engaged upon the fort, took possession, and renamed it Fort Duquesne.
Washington continued his march and held parleys with the Indians. On May 28 he attacked and captured a reconnoitering French force, and in doing so started the French and Indian War. Not succeeding in attaching the Indians to the English side and finding his advanced position otherwise untenable, he started to retire, but on July 3 surrendered to the French his hastily constructed works, called Fort Necessity. He had put up a valiant fight and was permitted to continue his march back to the Potomac. This was the only time he ever surrendered.
The news of this skirmish aroused both French and English to the immanence of conflict between them. However chagrined Colonel Washington may have felt over his first baptism of war, his position was so entirely all that could be expected that he received the thanks of the House of Burgesses.
The next turn in the wheel of fate brought General Braddock to America at the head of 2,000 smart British Regulars. He was a gallant officer of distinguished record, but he was totally unfitted to cope with the Indian warfare, although convinced that he and the British Regulars would be impervious to any mishap, an opinion in which Washington and other colonists who were familiar with Indian warfare may not have agreed, in spite of the traditional respect for the professional.
Considerable dissatisfaction had been aroused by the King's order that all provinicial commissions were inferior in rank to the royal ones. General Braddock, having heard of Colonel Washington's exploits, invited him to become a special aid "in his family, by which all inconvenience of that kind will be obviated." To this invitation Colonel Washington replied, acknowledging frankly --
"an inclination to serve the ensuing campaign as a volunteer; and this inclination is not a little increased, since it is likely to be conducted by a gentleman of the General's experience. but, besides this, and the laudable desire I may have to serve, with my best abilities, my King and country, I must be ingenous enough to confess, that I am not a little biassed by selfish considerations. To explain, Sir, I wish earnestly to attain some knowledge in the military profession, and, believing a more favorable opportunity cannot offer, than to serve under a gentleman of General Braddock's abilities and experience, it does, as may be reasonably suppose, not a little contribute to influence my choice."
The catastrophe which followed, bringing to young Colonel Washington much bitter disillusionment and great responsibility, is best gathered from his letter to Governor Dinwiddie, giving his first account of the defeat of Braddock and his forces, July 9, 1755:
"We continue our March from Fort Cumberland to Frazier's (which is within 7 miles of Duquesne) without meeting any extraordinary event, having only a straggler or two picked up by the French Indians. When we came to this place, we were attacked (very unexpectedly) by about three hundred French and Indians. Our numbers consisted of about thirteen hundred well armed men, chiefly Regulars, who were immediately struck with such an inconceivable panick, that nothing byt confusion and disobedience of orders prevailed among them. The officers, in general, behaved with incomparable bravery, for which they greatly suffered, there being near 600 killed and wounded--a large proportion, out of the number we had! The Virginia companies behaved like men and died like soldiers; for I believe out of three companies that were on the ground that day scarce thirty were left alive. Capt. Payroney and all his officers, down to a corporal, were killed; Capt. Polson had almost as hard a fate, for only one of his escaped. In short, the dastardly behaviour of the Regular troops (so-called) exposed those who were inclined to do their duty to almost certain death; and, at length, in spite of every effort to the contrary, broke and ran as sheep before hounds, leaving the artillery, ammunition, provisions, baggage, and in short, everything a prey to the enemy. And when we endeavoured to rally them, in hopes of regaining the ground and what we had left upon it, it was with as little success as if we had attempted to have stopped the wild bears of the mountains, or rivulets with our feet; for they would break by, in despite of every effort that could be made to prevent it."
In another letter George Washington expressed his utter disgust at the debacle, so contrary to the valor and record of the British Regular troops. He wrote:
"It is true, we have been beaten, shamefully beaten, by a handful of men, who only intended to molest and disturb our march. Victory was their smallest expectation. . . had I not been witness to the fact on that fatal day, I should scarce have given credit to it even now."
The British Regulars would have acquitted themselves with credit on a formal battle ground of Europe, but in the wilds of the American forests with Indians fighting from ambush they were helpless and terrified. George Washington had been so ill that on the march he had had to ride in one of the wagons, but was beside General Braddock at the time of the attack. As the other aides had soon been wounded, the carrying of the General's orders fell upon him. In constant danger, two horse were shot from under him, and four bullets went through his clothes. Although reported killed, he attributed his preservation to the all-pwerful dispensations of Providence. Out of 1,373 noncommissioned officers and men, only 453 came off unharmed. Washington, however, underestimated considerably the French and Indian force.
The immediate effect of the defeat of Braddock's forces was disastrous; for Colonel Dunbar, who commanded the rear of Braddock's Army that had not participated in the battle, refused, after receiving the fugitives, to advance or even to stand his ground, but retreated to Fort Cumberland and then decided to place himself and his troops out of reach of such border warfare and withdrew his men to Philadelphia, leaving the entire border at the mercy of the raids of the French and Indians.
This emergency brought forth the convening of the House of Burgesses of the colony of Virginia by Governor Dinwiddie, which voted 40,000 pounds and authorized the raising of a regiment of 1,000 men. The governor gave George Washington a commission as colonel and commander in chief of all of the forces raised in Virginia for the portection of the frontier. This commission was the answer to the general demand for the services of George Washingtn, whose actions under all emergencies had been and unusual tribute to the qualities of a 23-year-old officer. To him it meant a constant struggle to organize forces for the defense of the border without the necessary means with which to do so. He made sound and practical plans, but was not permitted to get them beyond the beginning of the central Fort Loudoun at Winchester. His own desire was for offensive operations, but he was overruled and forced to abide by the policy of a chain of small fortified posts, so poorly provided with men for their defense that they were helpless to defend their surrounding territory against Indian raids, which were growing steadily in frequency and in atrocity.
George Washington was gravely disturbed over the situation, and he wrote many letters in his efforts to induce the authorities to provide him with adequate means to protect the border settlers. One of these shows how deeply he was stirred by the conditions:
"I see their situation, know their danger, and participate in their sufferings, without having it in my powere to give them further relief, than uncertain promises. In short, I see inevitable destruction in so clear a light, that, unless vigorous measures are taken by the Assembly, and speedy assistance sent from below, the poor inhabitants that are now in forts, must unavoidably fall while the remainder of the country are flying before the barbarous foe . . . The supplicating tears of women, and moving petitions from the men, melt me into such deadly sorrow, that I solemnly declare, if I know my own mind, I could offer myself a willing sacrifice to the butchering enemy, provided that would contribute to the people's ease."
The Virginia authorities made some efforts to remedy these troubles, but there was a lack of intercolonial cooperation, and under the commanding generalship of Lord Loudoun, Virginia was not only left to its own defense but required to send troops to south Carolina. Recruiting was slow. Men were not willing to leave their homes and families, and George Washington had a most arduous service in trying to defend 350 miles of frontier with less than a thousand men. This condition continued through 1756-57. For two years there was nothing but a series of failures under Lord Loudoun until he was recalled. Then, when William Pitt became Prime Minister, the tide of the war turned in American. Under his able administration the British actually began to send substantial military forces into America, with strong naval force to supplement them. France did not match these moves, and the French forces in America were abandoned to their fate. It was not until 1758 that the change of affairs brought relief to George Washington. He had always urged that and expedition be sent to Fort Duquesne, a center of border depredations, to destroy it. At last, in 1758, the expedition was made a part of the energetic program for the year. The expedition was to be under Brigadier General Forbes, and Washington was to lead the Virginia troops, which had then been augmented to about 2,000. There were many long delays owing to the difficulty of preparations. This was the time when, owing to the shortage of regimental clothing, George Washington decided to fit out his command in the light Indian hunting garb. This was a first departure from the cumbersome uniforms of the period. George Washington pointed out the advantages in comfort and the greater reduction of impedimenta to be transported. The serviceability of this Indian costume soon proved its utility, and George Washington was responsible for introducing an equipment which was to be of great value to Americans later in the Revolution.
George Washington was eager to move forward in short order, following the road made under such difficulty by Braddock. However, while these mattters were being settled, he met, loved and wooed Martha Custis, and when he did start his march to Fort Duquesne, they were betrothed. Another honor came to him while on military duty. This was his election to the House of Burgesses of Virginia as representative for Frederick County. Military duty kept him from the polls, but he was elected by a large majority.
A notable contrast to General Braddock's disregard of George Washington's advice was the respect tendered his military opinions by General Forbes, who asked the young officer to make for him a plan of march, a tactical scheme for the conduct of an expeditionary force of 4,000 men. It was also astonishing to find the young officer fully prepared to offer the right solution to the problem with tactics so flexible as to change quickly a line of march into a battle line in the event of an attack. The value of this plan was so apparent that it was adopted and followed.
The above proves that George Washington had a grasp of military matters that was extraordinary. General Forbes's expedition advanced with painful slowness. Colonel Bouquet, who had advocated the new route, was energetic, but the making of the new road through the wilderness was very difficult, and the approach to Fort Duquesne was delayed until in danger of being halted by the winter weather. However, it was all settled by the capture of Fort Frontenac. After the defeat of General Abercromby in his attack on Fort Ticonderoga, July 8, 1758, Fort Frontenac had been left with only a little over a hundred men to garrison it and was therefore easily captured in August by a brilliant dash of Colonel Bradstreet across Lake Ontario with a force of 2,500 colonial troops. The loss of this valuable French post cut the French line of communications, and by the time the Forbes expedition appeared the weakened forces at Fort Duquesne abandoned their isolated position. They had routed a rash advance force under Grant, but abandoned by their Indian allies, they could not withstand the main body and after burning their fort retreated up the Allegheny. It saved the situation, for General Forbes was then fatally ill. The fort was made defensible and renamed by him Fort Pitt (afterwards Pittsburgh). Two hundred of Washington's Virginians were left as a garrison, and the expedition returned to Virginia. The downfall of Fort Duquesne ended the border troubles, just as George Washington had predicted it would, as it had been the base of all the Indian raiding activities. The restoration of order on the border ended the war for Virginia; the French being driven away, the end of 1758 was the end of George Washington's military service in the French and Indian War.
---
Prepared for the U.S. George Washington Bicentennial Commission, Submitted by Mrs. Franklin B. Wildman, The Picket Post, The Valley Forge Historical Society. January 1966
---