Head of Elk, Maryland
A Storm Intervenes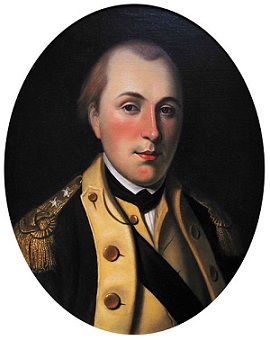 On Tuesday night, a terrible storm kicked up, soaking the rail and cornstalk huts of the already water-weary British. Rain rutted and flooded the dirt roads. And the storm disturbed plans and destroyed ammunition of both armies.
Washington, Greene, and Lafayette dined and stayed overnight through the storm at a farmhouse near Cooch's Bridge. Had history played out a little differently, Washington might have been captured.
Howe had ordered Cornwallis's men to march north at 3:00a.m., Wednesday morning, but countermanded the marching orders:
"Since the heavy rain continues, and the roads are bottomless, and since the horses are sick and stiff, we had to countermand the order to march."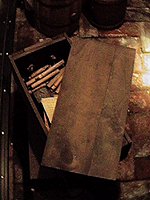 Betsy Ross House © 1997 IHA
Gunpowder in paper cartridges: when wet, these are useless
Surveying the Storm's Damage
Both armies spent Wednesday surveying the damage.
When wet, black powder and paper cartridges were useless, and therefore, muskets, cannon, mortars, and howitzers would be useless. Both sides lost critical supplies of ammunition.
British Captain John Montresor wrote,
"...the order for marching was countermanded ... The roads heavy and the horses mere Carrion the soldiery not sufficiently refreshed and great part of their ammunition damaged, made it upon the whole no delay...The guards [alone] had sixteen thousand cartridges damaged by the storm."
In the morning, Washington returned to his Wilmington headquarters. He, like Howe, was forced to curtail troop movements. Washington had hoped to send part of the Continental army to confront the enemy. Instead, the task at hand was to replace ruined ammunition.
---
---