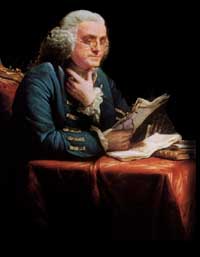 Who was Benjamin Franklin? That's not a simple question to answer.
His great biographer Carl Van Doren called Franklin "a harmonious human multitude." And no wonder. By turns pamphleteer, apprentice, printer, balladeer, inventor, philosopher, politician, soldier, firefighter, ambassador, family man, sage, delegate, signer, shopkeeper, bookseller, cartoonist, grandfather, anti-slavery agitator, Mason, and deist — Benjamin Franklin defied description and transcended categorization. He could not be summed up by a laundry list of labels.
The remarkable Benjamin Franklin, a printer by trade, a scientist by fame, and a man of action by all accounts, continues to shape American thinking and action. The Independence Hall Association has commissioned and assembled resources, including biographies, transcriptions of Franklin's publications, a Franklin quotation meme-generator, and articles about Franklin's contributions to science, the city of Philadelphia and essays and fiction about or inspired by Franklin
Each generation produces people who reshape their world. Benjamin Franklin was one such man.
---
The IHA is grateful to our generous sponsors for providing grants to make the site possible.
The Barra Foundation
The McLean Contributionship
The Elizabeth Hooper Foundation
The Stewart Huston Charitable Trust
---